Welcome to the Holiday Gift Guide
Happiest Holiday season.
In my CityNotes monthly report I try to share with you this months must-see events, venues and activities in NYC with a special focus on: art, food, design, architecture.
I have had many requests for the upcoming season to create a gift guide for everyone. This is definitely one of my favorite things to research. I love giving gifts and sharing ideas I have.
There are many different ideas I've included and hopefully they are unique and not necessarily your go to gifts.
During this incredibly difficult time I'm hoping we can all come from love.
Reach out with any questions or comments.Im always happy to help with gift giving.
Feel free to email me any friends you would like to add to the distribution.
Remember to go to the links at the bottom of the newsletter. which will take you to the current Market Reports each month.
A reminder, please go to my website
PatriciaGreeneIsen.com
to see all of my past issues of CityNotes.
Have fun!
Enjoy
GIFTS FOR THE DESIGN ENTHUSIAST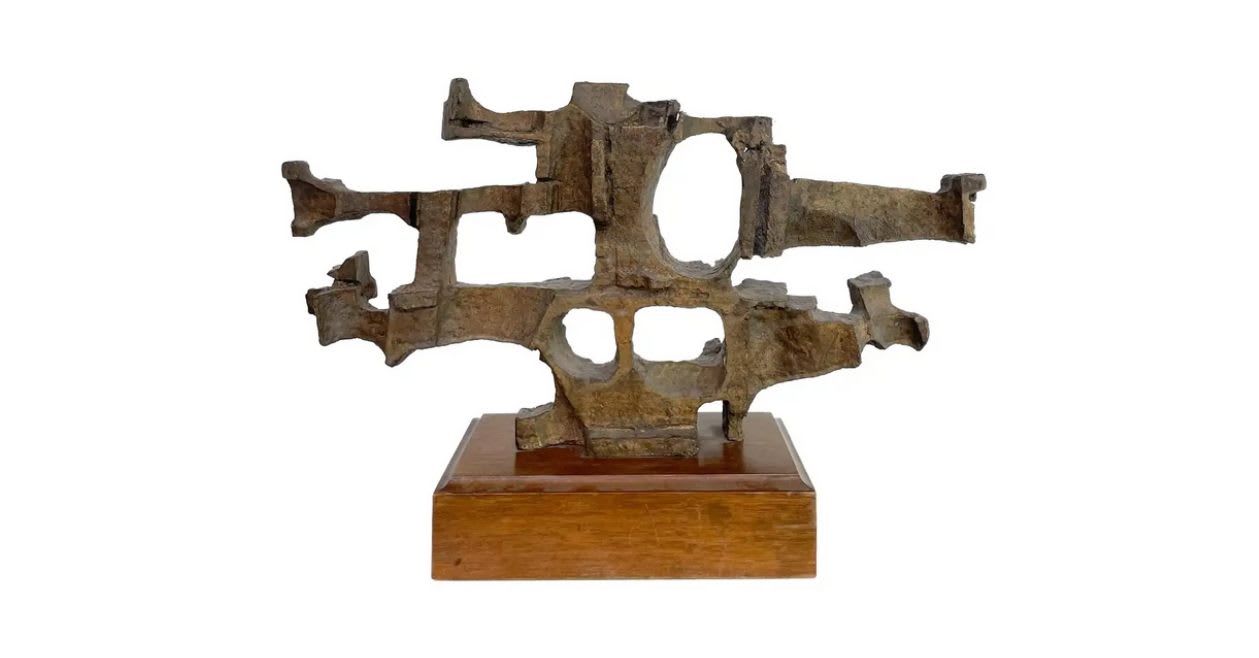 Brutalist Sculpture
1st Dibs Brutalist Sculpture
Le Brutalist Metal %& Wood Sculpture . Artist Unknown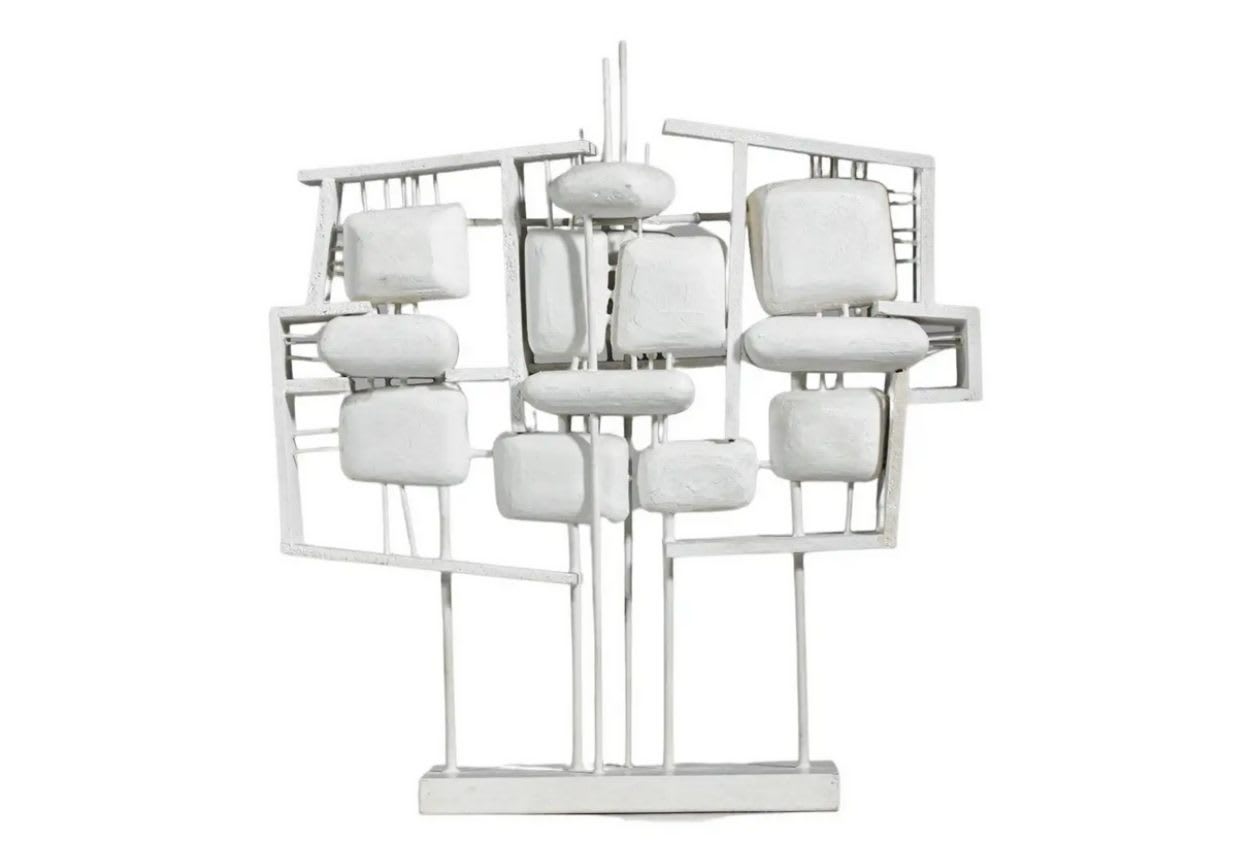 Unknown Artist

1st Dibs Unknown French Sculptor
Original French sculpture, small proportions, made with a technique of assembly of wood and white lacquered metal the whole coated with plaster in a modernist style. Unknown artist, presence of the signature on the base.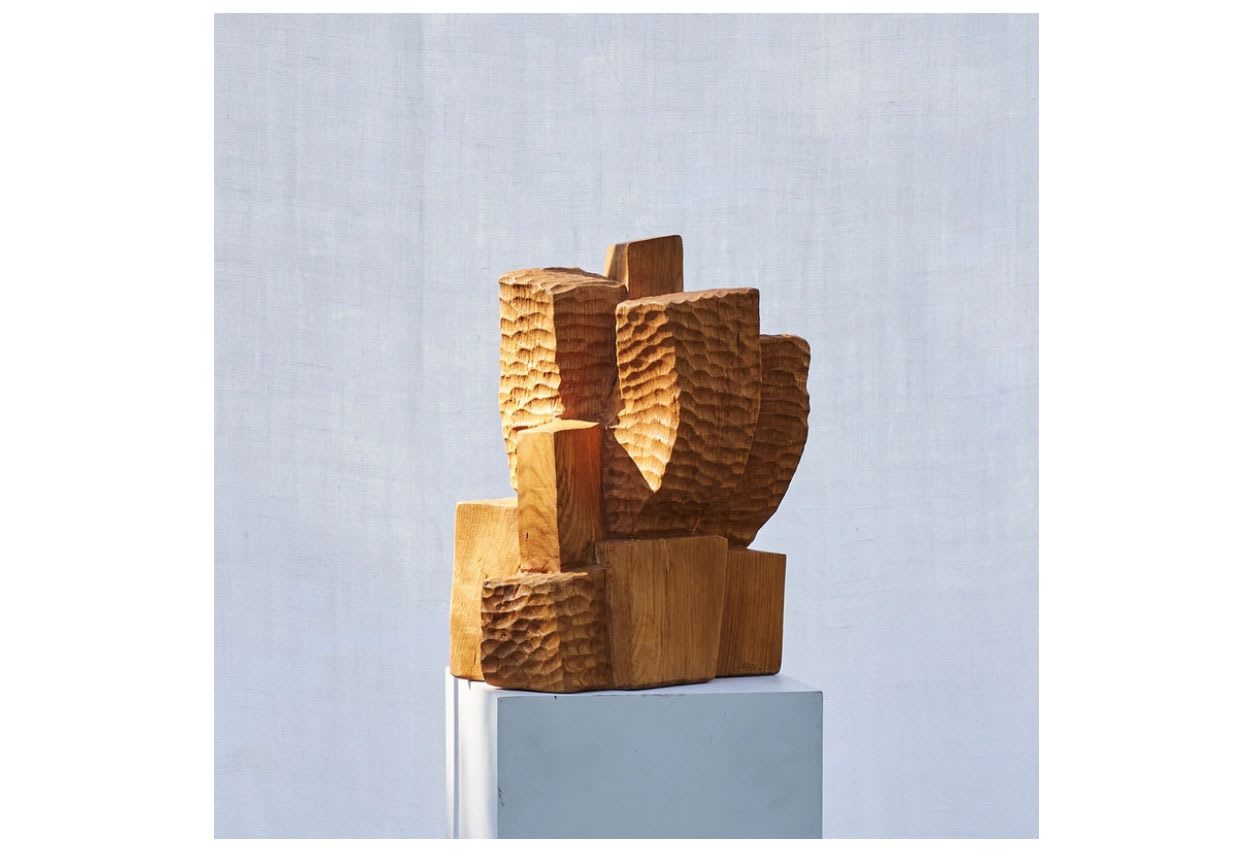 Vedran Jakšić

RW Guild Vedran
Fashioned from hardwoods in Croatia these one of a kind pieces are the creation of artist Vedran Jakšić. Each chisel mark highlights the hand of the carver and the soul of each individual tree.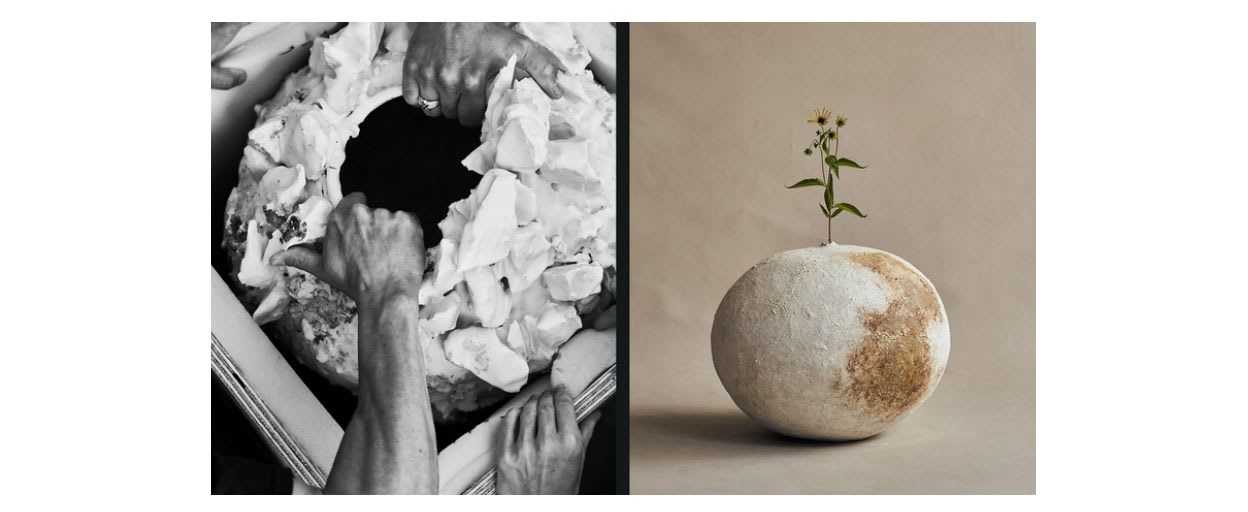 AKIKO HIRAI
RW Guild Akiko Hirai
I was lucky enough to buy one of Akiko's pieces about twelve years ago at a craft fair in London with my dear friend keith Johnson. Now Akiko is represented by RW Guild. Born in Japan, Akiko calls London home; its diversity appeals to her curiosity. Her studio at the Chocolate Factory allows her to be influenced by the artists around her, and her quiet observations find their way into her work. Inspired by posture and what lies underneath, her functional objects capture contrast and movement with asymmetrical shapes that make you use your imagination to balance.
GIFTS FOR THE FOOD ENTHUSIAST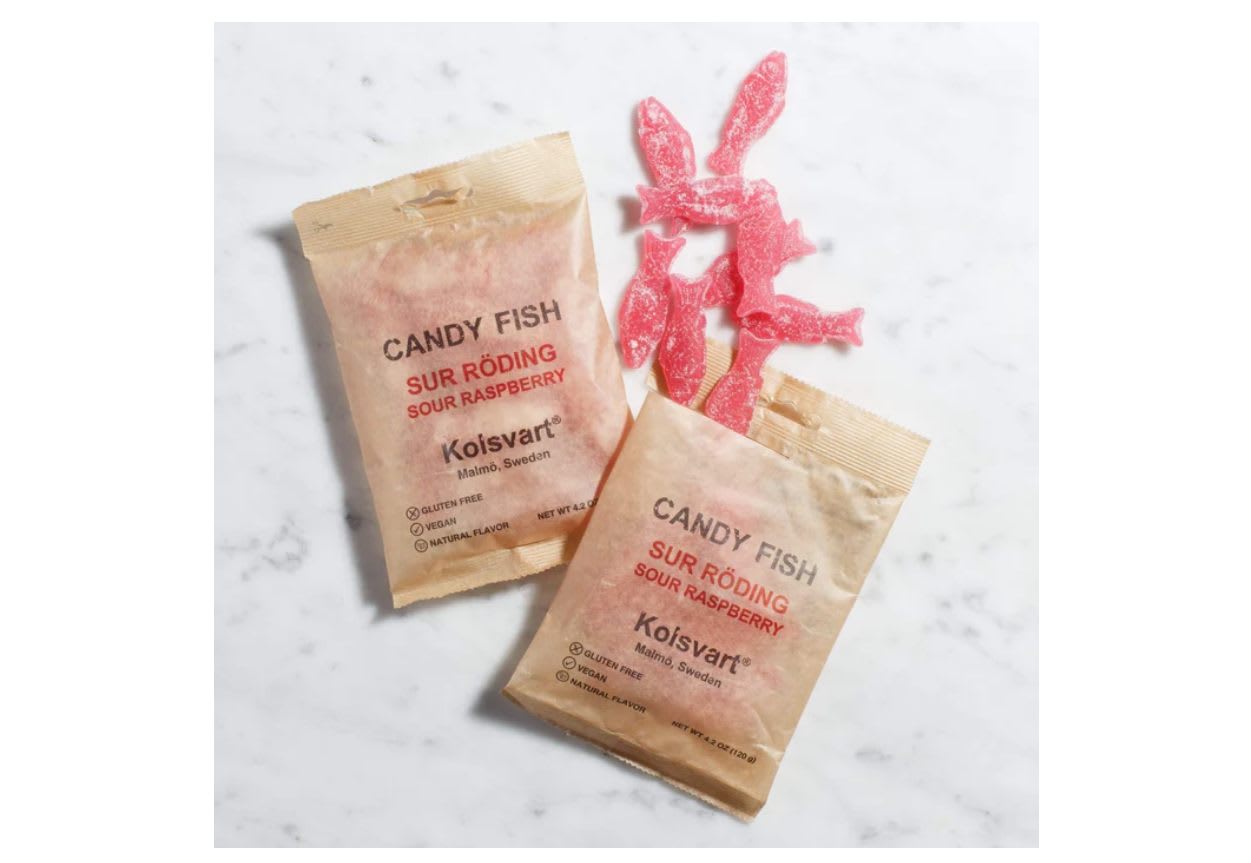 Kolsvart Swedish Fish
Kolsvart Swedish Fish
Shaped just like a cod from its Swedish namesake, these gummies celebrate authentic Scandinavian flavors like elderflower and licorice ginger. They aren't just good for a sweet tooth, either—they're also good for the planet. Every bag you purchase helps local fisherman implement ethical practices in their trade.
Authentic Scandinavian flavors
No artificial additives or colorings
Vegan and gluten-free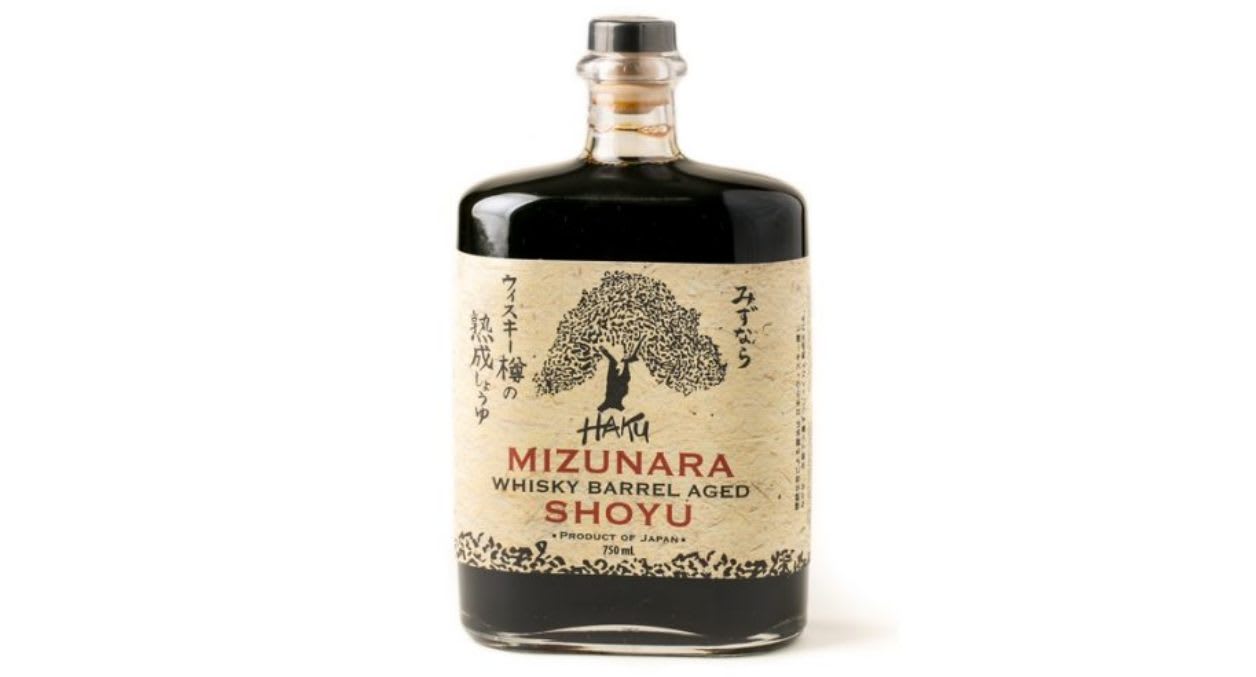 Haku Mizanaru Shoyu
Shoyu Sauce
Sublime, mellow and flawless, this extraordinary ingredient from Kyoto Prefecture is truly exceptional. Haku Mizunara Whisky Barrel Aged Shoyu is traditionally brewed, preserving the ancestral methods of the mushiro koji process and yielding an exceptional shoyu. Master craftsmen thoughtfully age the shoyu in Japanese whisky barrels made
from mizunara hard wood, a type of Japanese oak.

Misi Pasta Malfadini
Misi Pasta
Frrom the illustrious group behind Lilia in Brooklyn.... Mispasta is a must! they have so many items you can send as gifts. This particular gift is ruffled long pasta was made popular by the butter, Parmigiano, and pink peppercorn pasta at Lilia, born in 2016. Try recreating the iconic Lilia dish at home or pair with any of our other sauces.
Made from Semolina and Water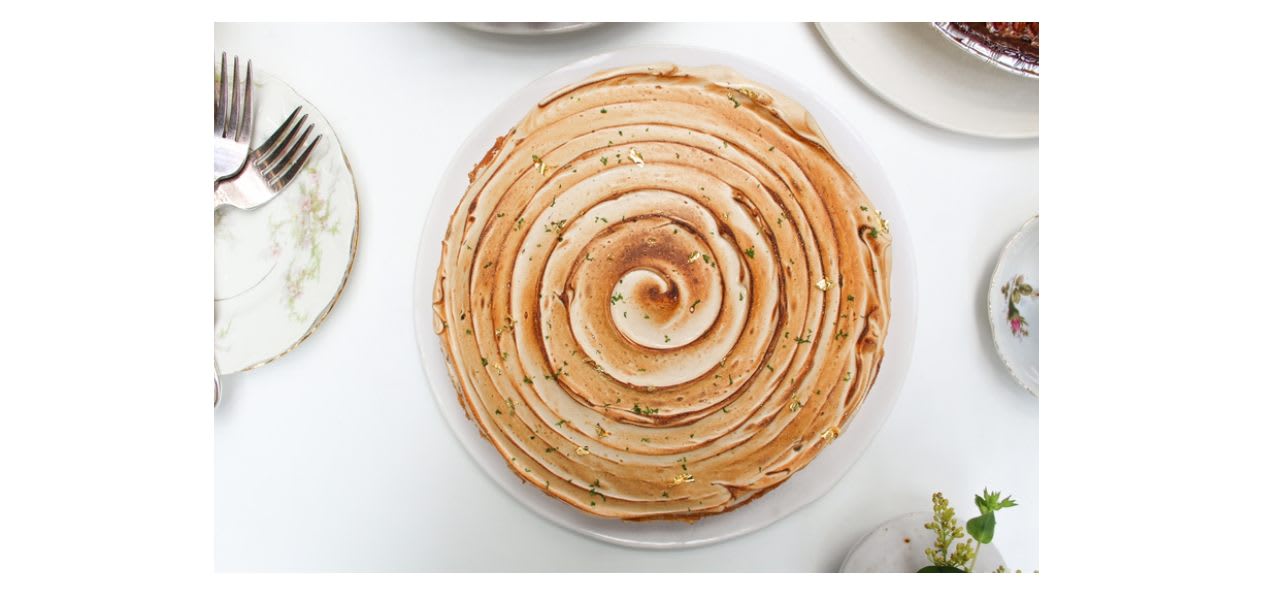 Jean George Yuzu Meringue Pie

Jean George Yuzu Meringue Pie
SO COOL!
You can order from Jean George and pick up for thanksgiving and serve at home or bring to a friends house as I have asked my friend Loren to do for our family Thanksgiving.
VEGAN YUZU MERINGUE PIE
With Bergamot & Black Sugar Meringue
Gifts for theAesthetic Enthusiast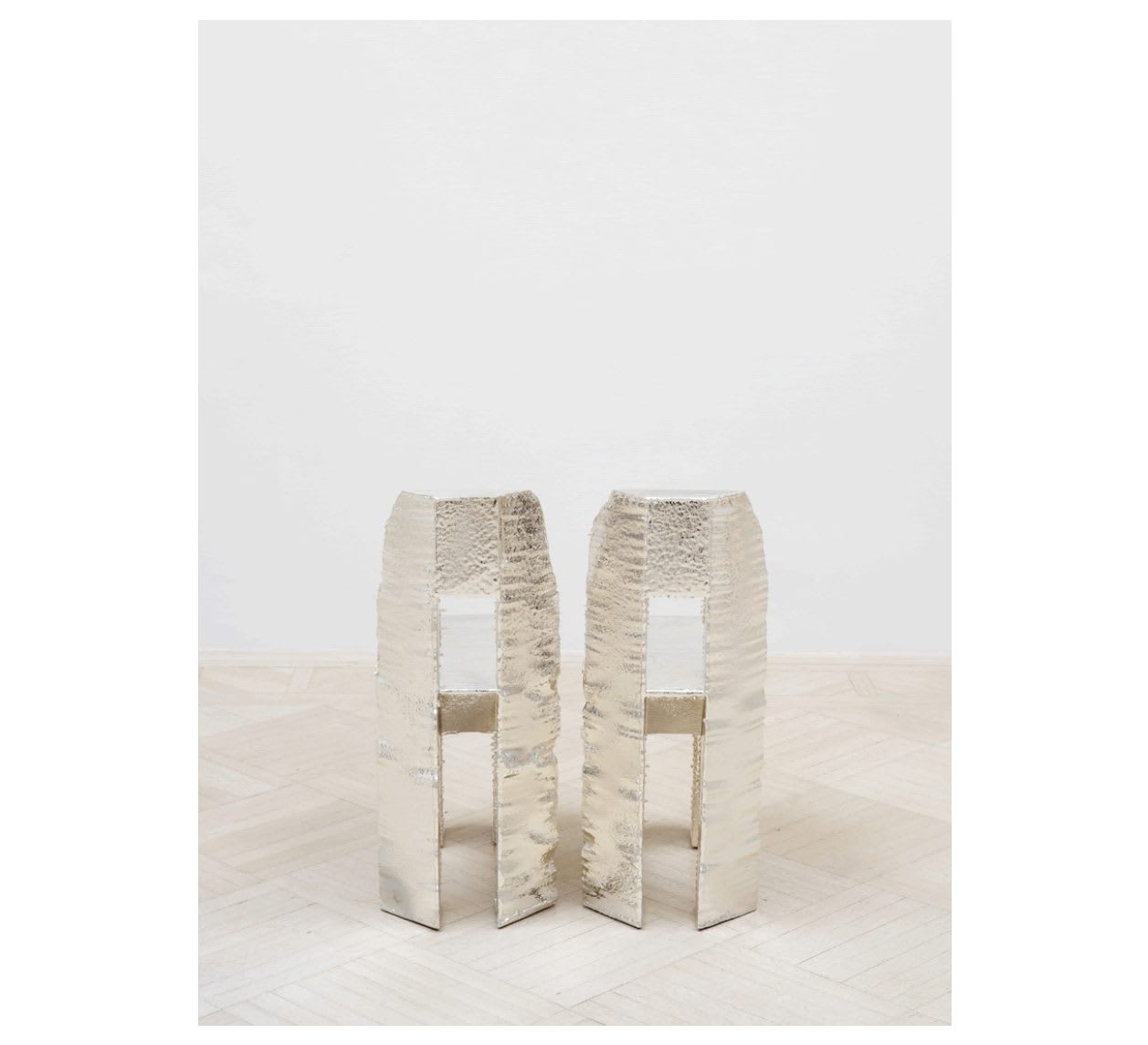 Max Lamb Chairs
Salon 94
Max Lamb Chairs
I absolutely LOVE Max's work! I was lucky enough to see his first show in Milan at Saloni over 12 years ago with ( of course) my dear friend Keith Johnson. Max Lamb was born in St. Austell, Cornwall, England, in 1980. He lives and works in London, United Kingdom. He is presently on a residency at The Wornick Distinguished Visiting Professor of Wood Arts within the Furniture Program of California College of the Arts in San Francisco. His work has been widely exhibited at galleries and institutions both in Europe and the US. His work was included in the Design Triennial Beauty at the Cooper Hewitt, Smithsonian Design Museum in New York in 2016. In 2017, Salon 94 Design featured his
thermal spray work at Design Miami/Basel. His work was also prominently present in Midtown. a group show at Lever House in New York. In 2018, he had a solo show, Exercises in Seating at the Art Institute of Chicago. His presentations have been featured in numerous design magazines. He currently designed the interior of the Acne
flagship store on Madison Avenue in New York and on Geary Street in San Francisco.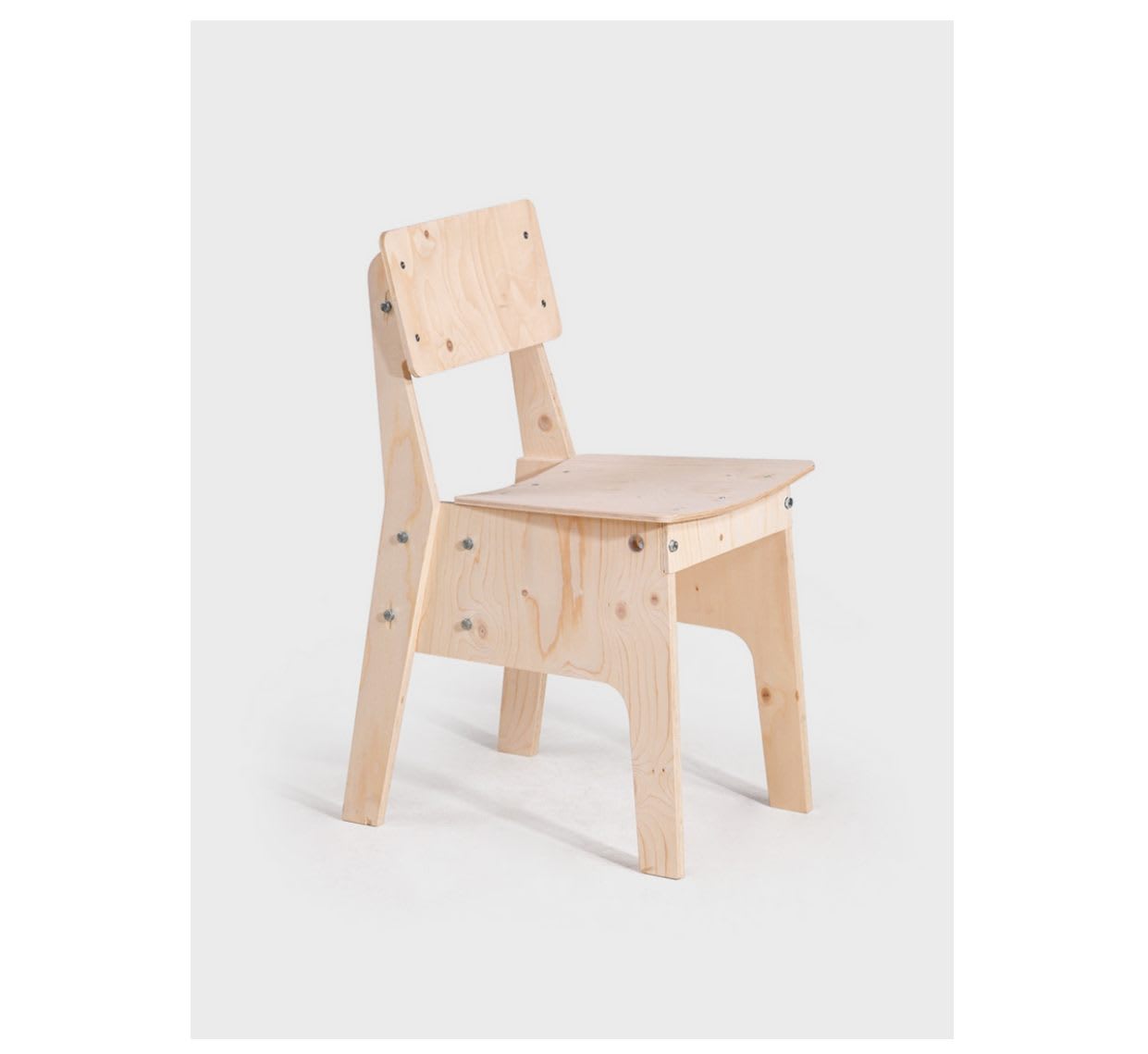 Piet Hein Eek Chair
Piet Chair
Another pilgrimage Keith and I would take is to Eindhoven for the incredibly creative show. Piet is the Ambassador and Mayor of Eindhoven!Piet Hein Eek's work has an ecological focus. His emphasis on using found materials is in service of a sustainable design practice.[2] His designs often bring out natural qualities of his materials, giving his
pieces a distinctive look.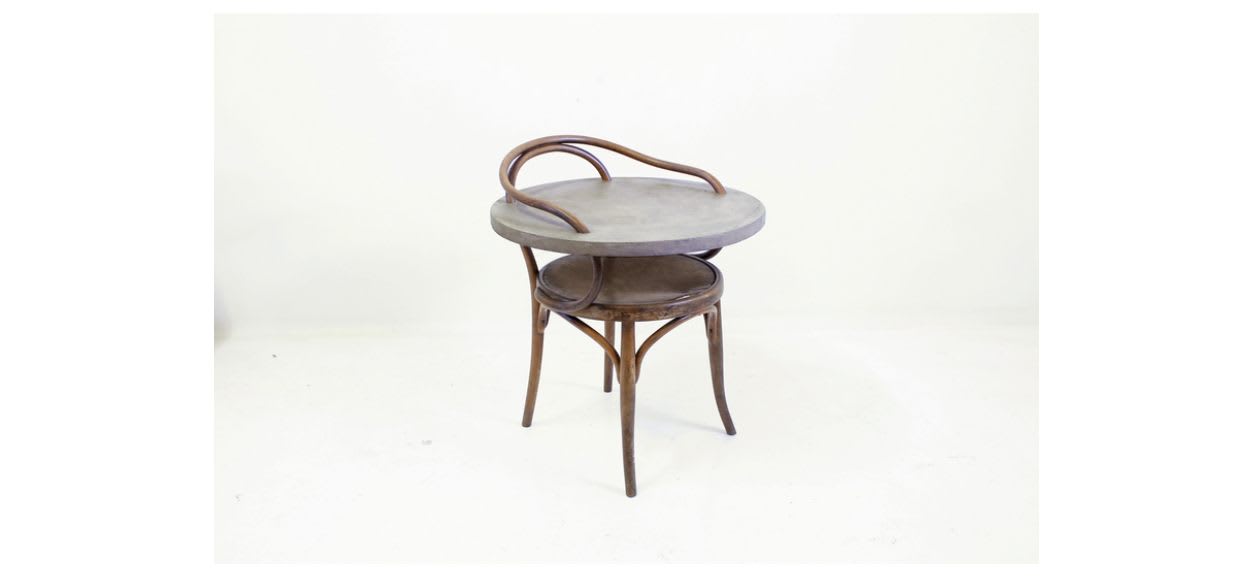 Marc Antonio Table Chair
Marc Antonio Table Chair
Truly, this entire section is an homage to keith Johnson He truly discovered Marc Antonio! Marc Antonio was just in manhattan and came for cocktails. He is a HUGE talent!
Marcantonio Raimondi Malerba was born in 1976 in Massa Lombarda, Italy. He attended the Art Institute and the Academy of Fine Arts. Just graduated he begins to work in the theater scene and collaborating with some architects. Soon he begins to create unique pieces of design in parallel with a production of art, but step by step the two careers are beginning to become contaminated. So its design is enriched with artistic concepts. For over 10 years he worked for private or local public realizes. Connections between Man and Nature are his favourite theme; interpreting both dynamics and beauties of nature; showing the Man's attitude affecting the original. He loves thinking about his work as a direct continuation of what he used to do when he was a child, playing with everything he finds, and create what his mind imagined. Actually, looking for the aesthetic component and concept, takes ideas from the same sources he created while playing, daydreaming with everything normally surrounds him. He learned from Art how an idea could be elegant, that's why he's always looking for pure concepts and summary.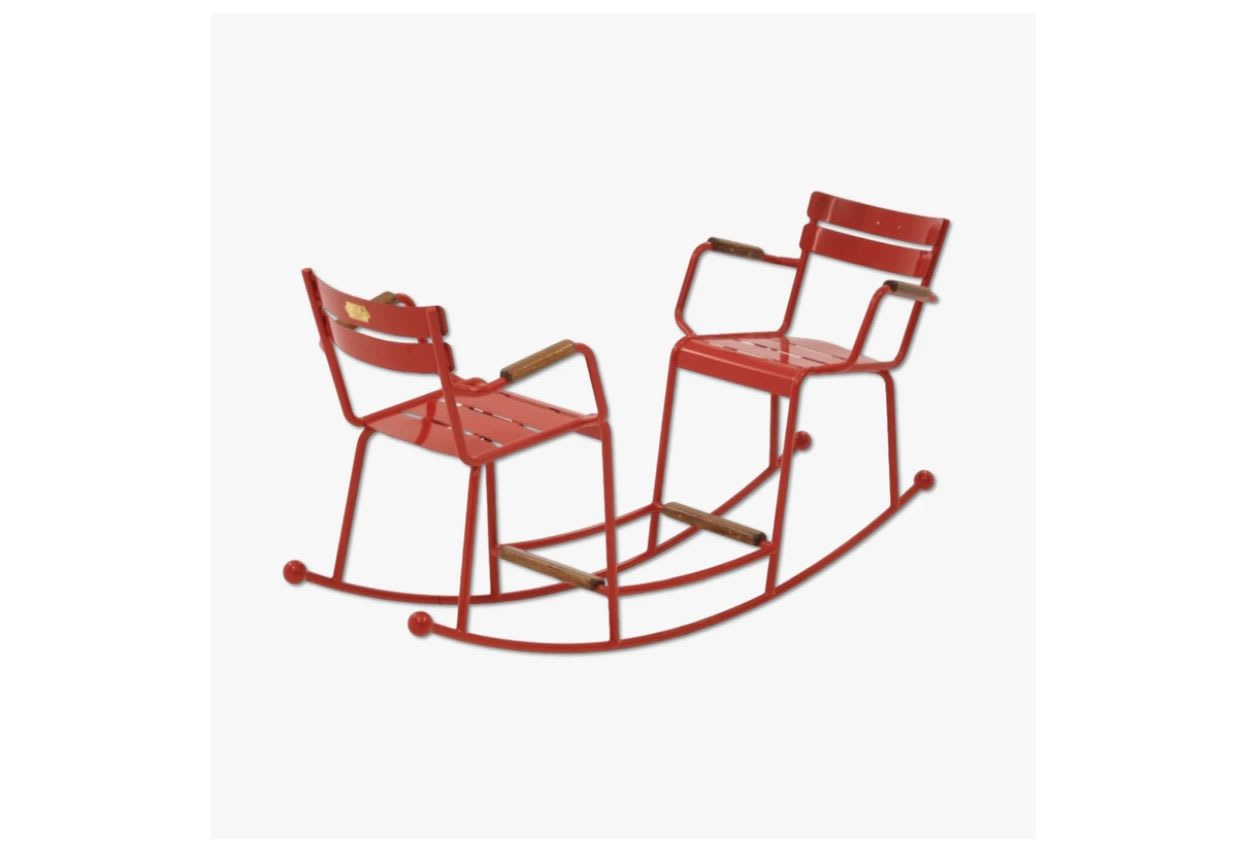 Palais Royal Swing
Le Prince Jardiner Palais Royal Swing
For more than 80 years this swing had a first life in the Parisian gardens of the Palais Royal, Luxembourg or the Tuileries.
Destined for destruction, this collector's item was then bought and restored by Le Prince Jardinier, who wanted to pass on this small part of Parisian heritage to future generations. It is now part of the Prince Jardinier's Mobilier Memoire Collection.
To never forget its history or be likened to a pale copy, it is equipped with a brass plate that attests to its origins.
Product designed by Le Prince Jardinier - Louis Albert de Broglie
Made in France
The swing is made to measure.
According to your tastes, several colors are available: red, celadon green, white, black, light blue, yellow, pink.
The restoration is made in France, within 8 weeks.
It is a unique collection in the world.
If you would like to order this item and get a quote, please contact us directly or drop by the store at
46, rue du Bac
in Paris 7th.
GIFTS FOR THE SPORTS ENTHUSIAST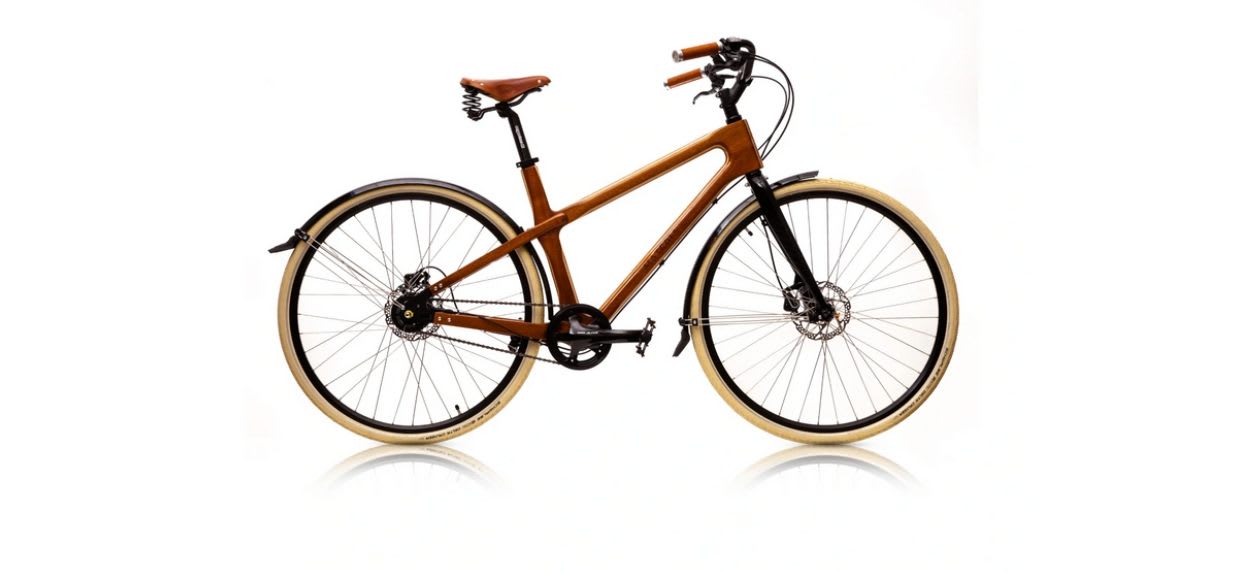 Materia Grace Wooden Bike
Materia Bikes
Materia Bikes offers a premium ride quality with their wood frame, which absorbs four times more vibration than carbon. These hollow and lightweight frames deliver an ideal balance of stiffness, smoothness, durability, and performance for the enthusiastic rider.
Nohrd Water Rower
Water Rower
The WaterRower was invented in 1988 by John Duke, engineer and USA national-level rower. His design followed 2 principles: First, replicating real rowing experiences, like resistance, sound and physical benefits. Next, ensuring the machine's aesthetic compliments interior furnishing, for users to have a welcoming emotional connection, as is common with favored furniture and art.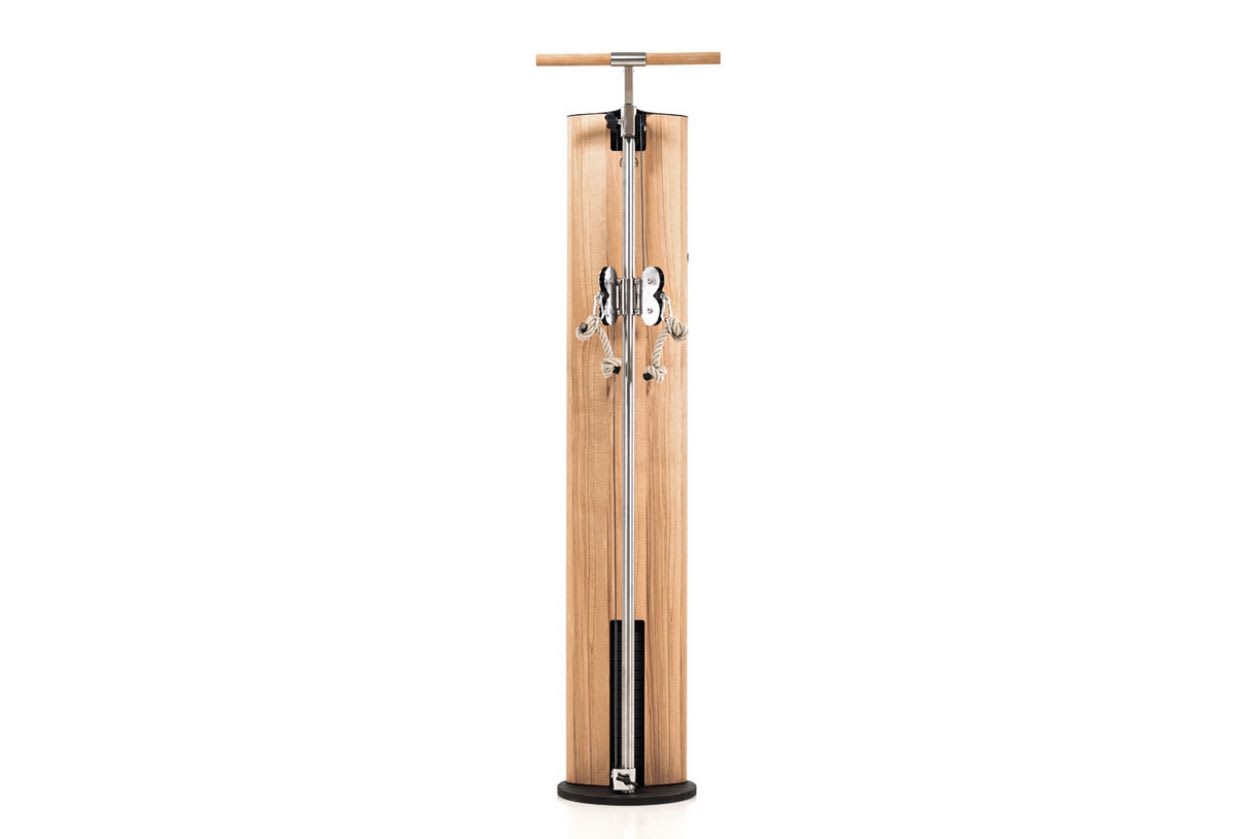 Nohrd Slim Beam
Slim Beam
The NOHRD SlimBeam's space-saving design and stylish look set it apart from other weight stack systems. A revolutionary upgrade to conventional cable machines, the SlimBeam is a commercial-grade weight stack with a height-adjustable dual cable pulley system. Suitable for use in fitness studios, residential gyms, and everything in between;
the SlimBeam is a versatile and multi-functional piece of resistance training equipment that enables strength training exercise for every muscle group.
GIFTS FOR THE ENTERTAINER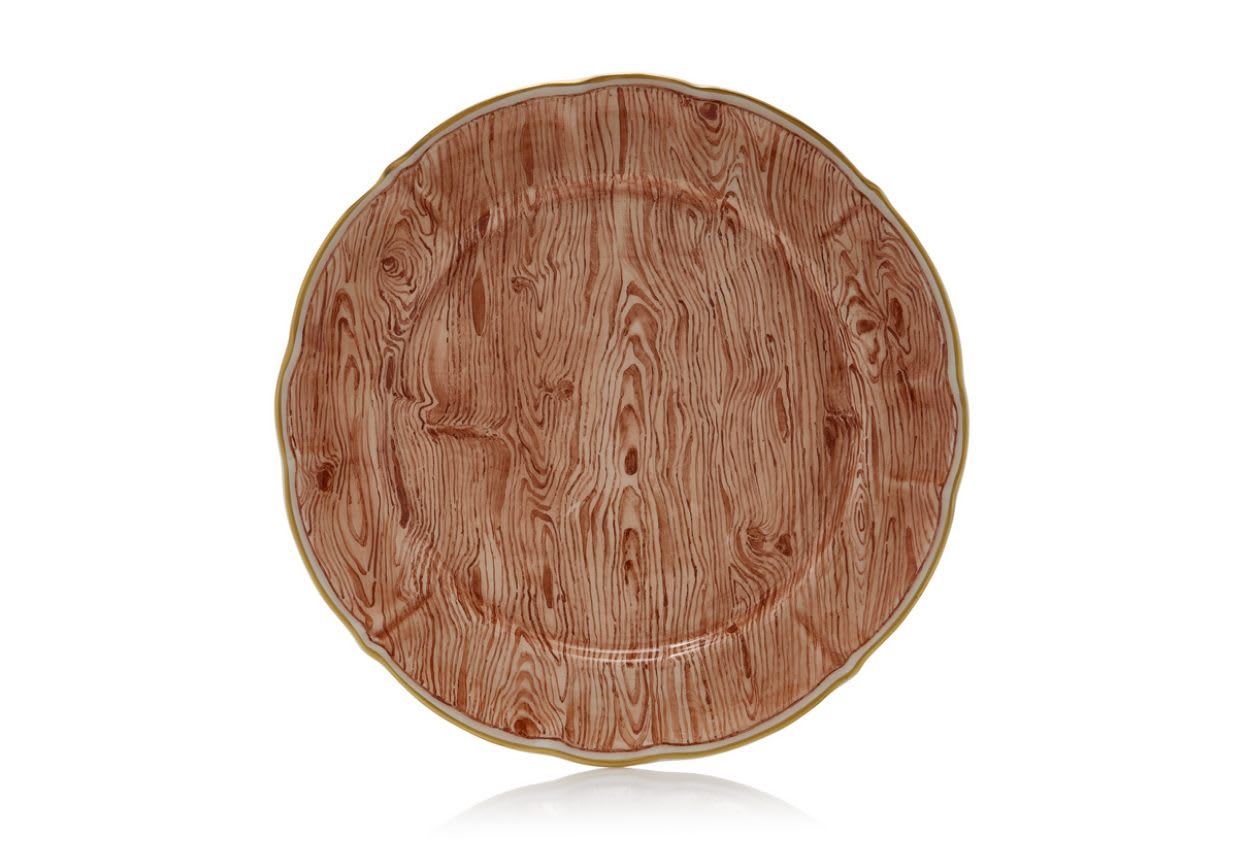 Laboratorio Paravicini
Wooden Grain Dinner Plate
please can someone tell my family...... this is what I would LOVE as a holiday gift! Laboratorio Paravicini's family-run atelier crafts one-of-a-kind ceramics made from thin white earthenware and hand-painted using a mixed- brush technique. Whether you're setting the table or decorating a wall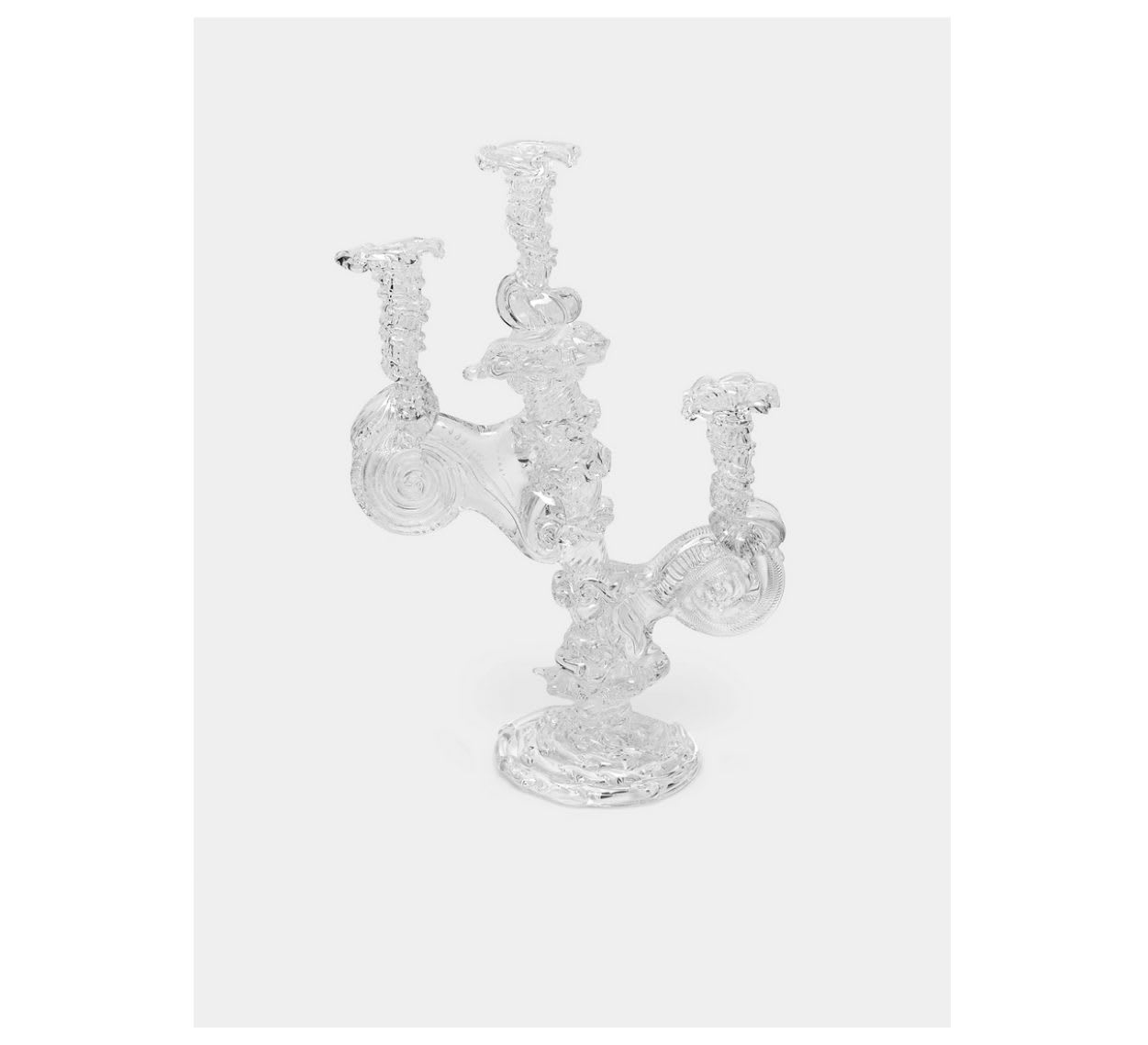 Alexander Kirkbey
Unique Glass Candelabra
Based in Aarhus, Denmark, Alexander Kirkeby specialises in mouth- blown glassware that's unique, creative and functional. Rather than finding inspiration in clean lines, he instead strives to develop a more contorted aesthetic – one that defies expectations and brings character to homes across the globe. As a result, his creations have an off-kilter
way about them that'll draw you in and implore you to analyse each one from every possible angle. Alexander Kirkeby has expanded his collection of beautifully crooked crystal with an array of vases, candlesticks and candelabras. Like their predecessors, these designs are hand blown in Kirkeby's Danish workshop, where he twists and turns
until he reaches his signature aesthetic of careful, considered contortion.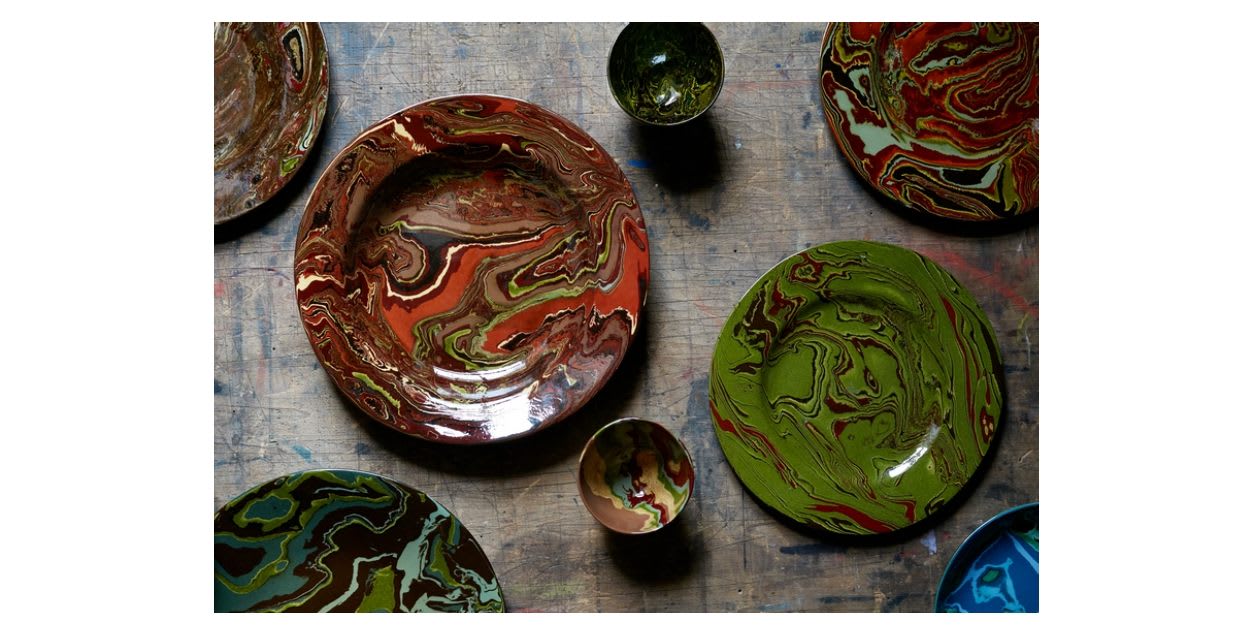 Sylvie Saint-Andre Perrin
Abask & John Derian
Saint-André Perrin
I was lucky to visit this studio with my good friend Jane Schulak over 5 years ago. Paris-based Atelier Saint-André Perrin – made up of mother- and-daughter duo Sylvie and Elise – handcrafts signature marbled ceramics by utilising a technique Sylvie developed called stamping. The intricate process sees them swirl together various coloured oxide clays, rhythmically hand-knead the mixture, and then roll it out to reveal the unique pattern. Then, the clay is stamped and shaped into a pre-made plaster cast for it to harden, before being scraped, sanded, fired, enamelled and fired for a second time. No more than 16 pieces are created each day, making each one a loved, laboured-over product of
this maker's vision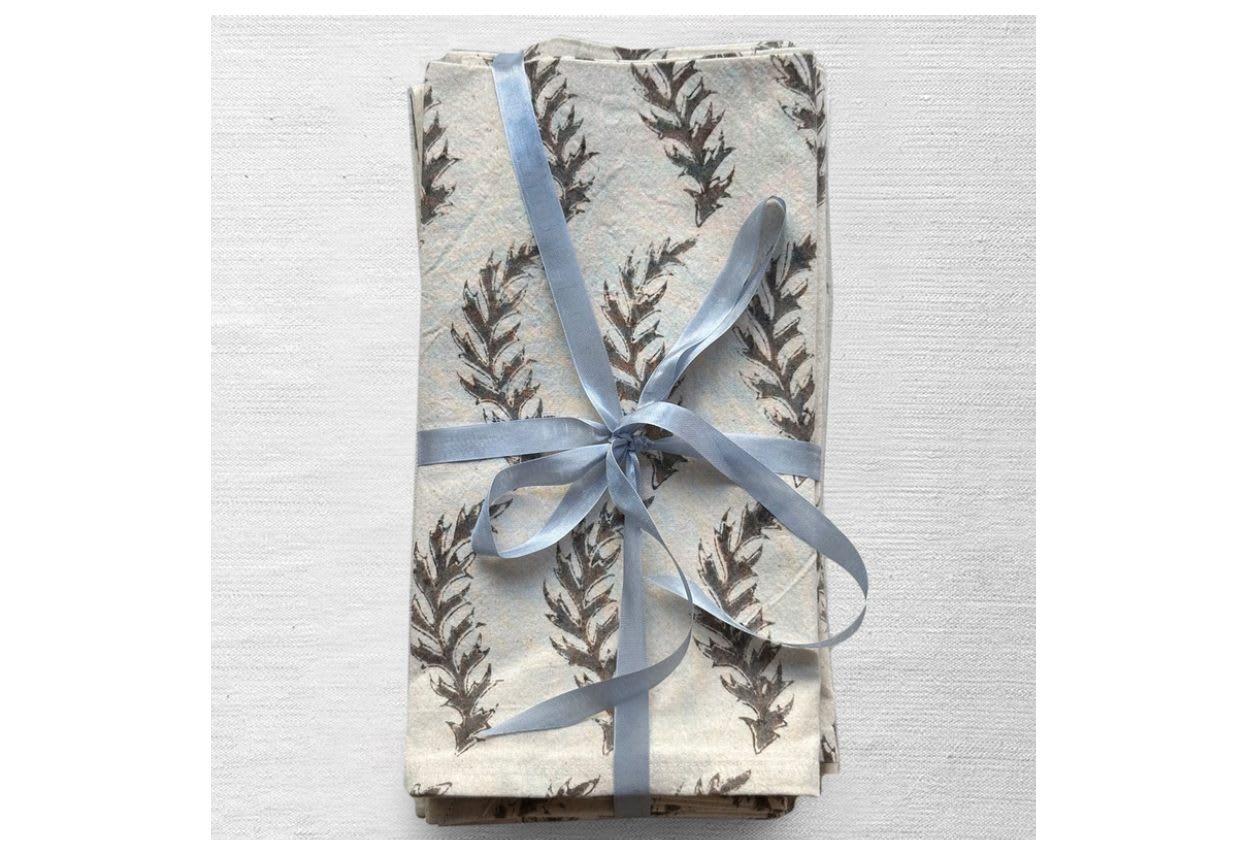 Les Indiennes Feathers Napkin Set
Feather Les Indiennes Napkin
Practicing the ancient craft of Kalmkari printmaking, Les Indiennes' collection of pillows, napkins, and tablecloths are block-printed by hand in Southern India. Each piece of textile embraces the unique beauty of simplicity and imperfections.
GIFTS FOR THE GARDEN ENTHUSIAST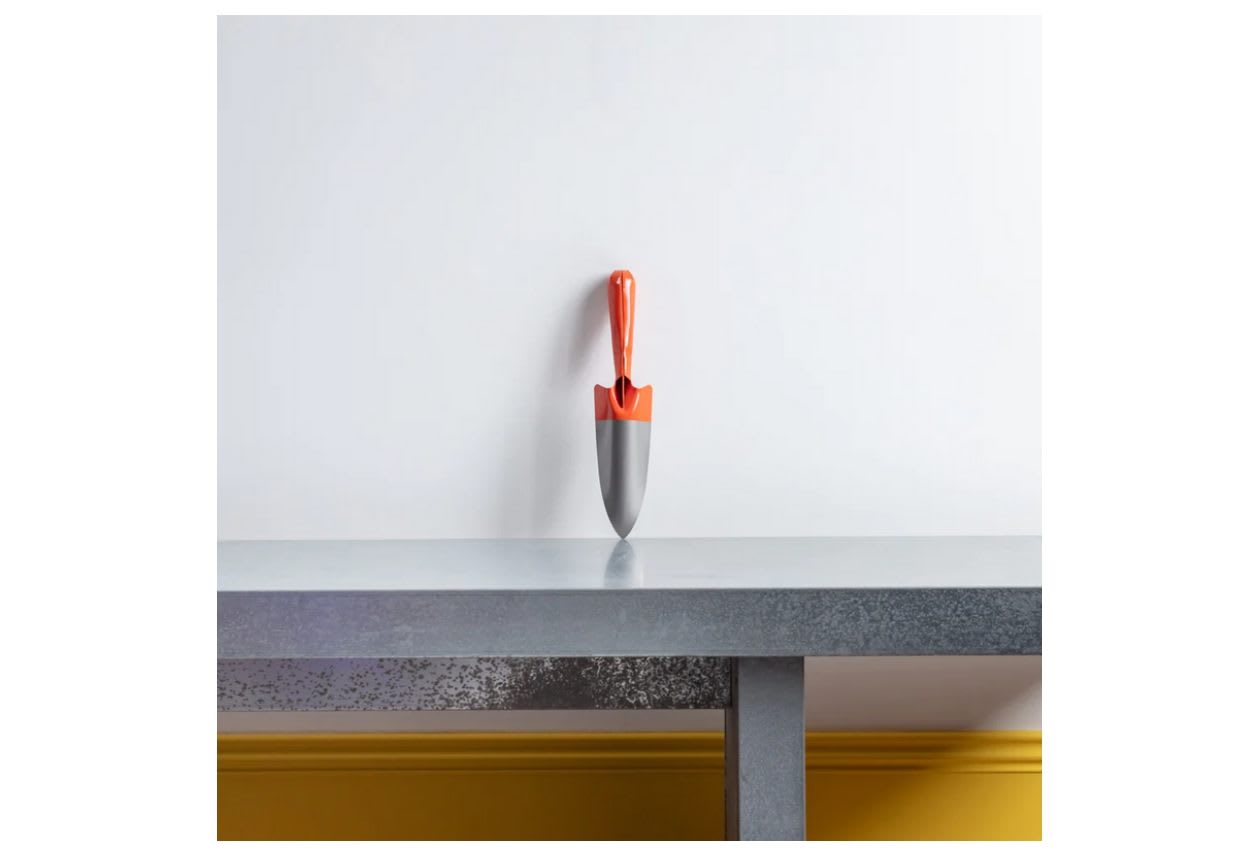 Merci Paris
Merci Garden Shovel
Steel garden shovel
Orange, two-tone handle
Ideal for adding color to your gardening days
Very durable, very high quality and robustness
Made in Japan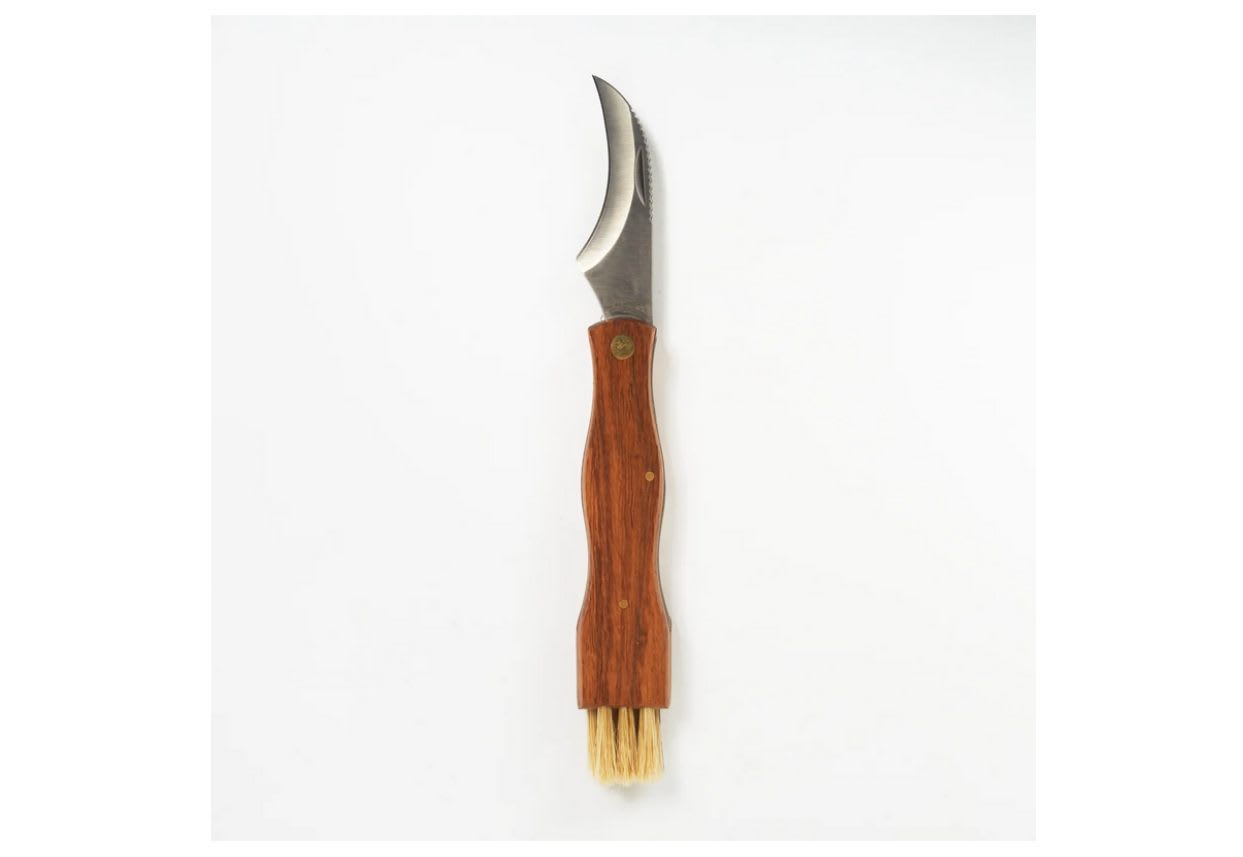 Mushroom Forager
Le Prince Jardinier Mushroom Forager
Essential tool for mushroom foraging! From October to February, this knife will be your best friend in the forest. Its curved blade makes it
possible to delicately cut the stem of the mushroom and its brush to clean the cap.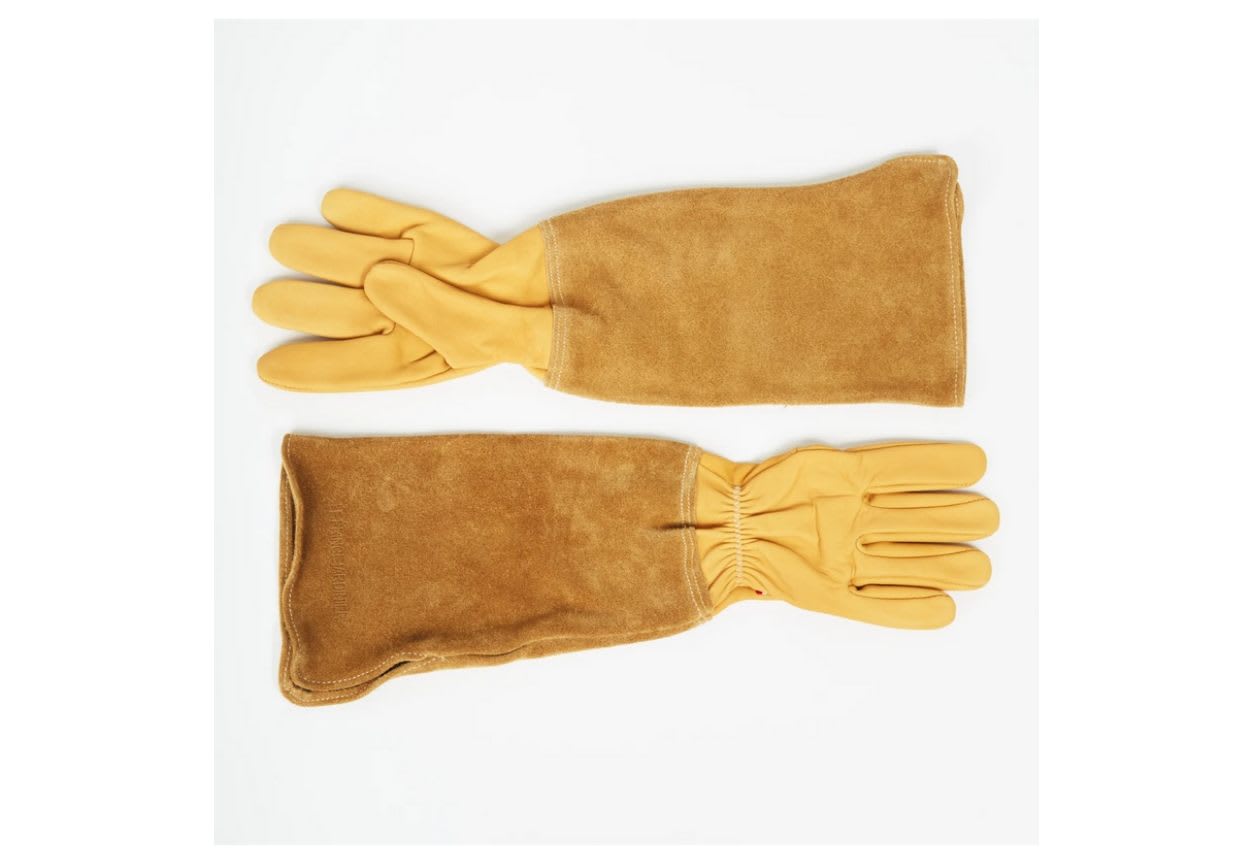 Musketeer Gloves
Le Prince Jardinier Gloves
These Le Prince Jardinier musketeer gloves in cowhide leather protect the forearms well during cutting work.
EXCLUSIVES
No matter what your needs or neighborhood preferences are, we will work tirelessly to find what you want and make it happen for you.

My mother, Betsy S. Green and I are partners at Douglas Elliman. Together we represent clients in NYC, the Hamptons and Palm Beach. So when looking for real estate—whether you are expanding a family, downsizing, changing residences or relocating from another city—we would be thrilled to be involved in your journey and work with you.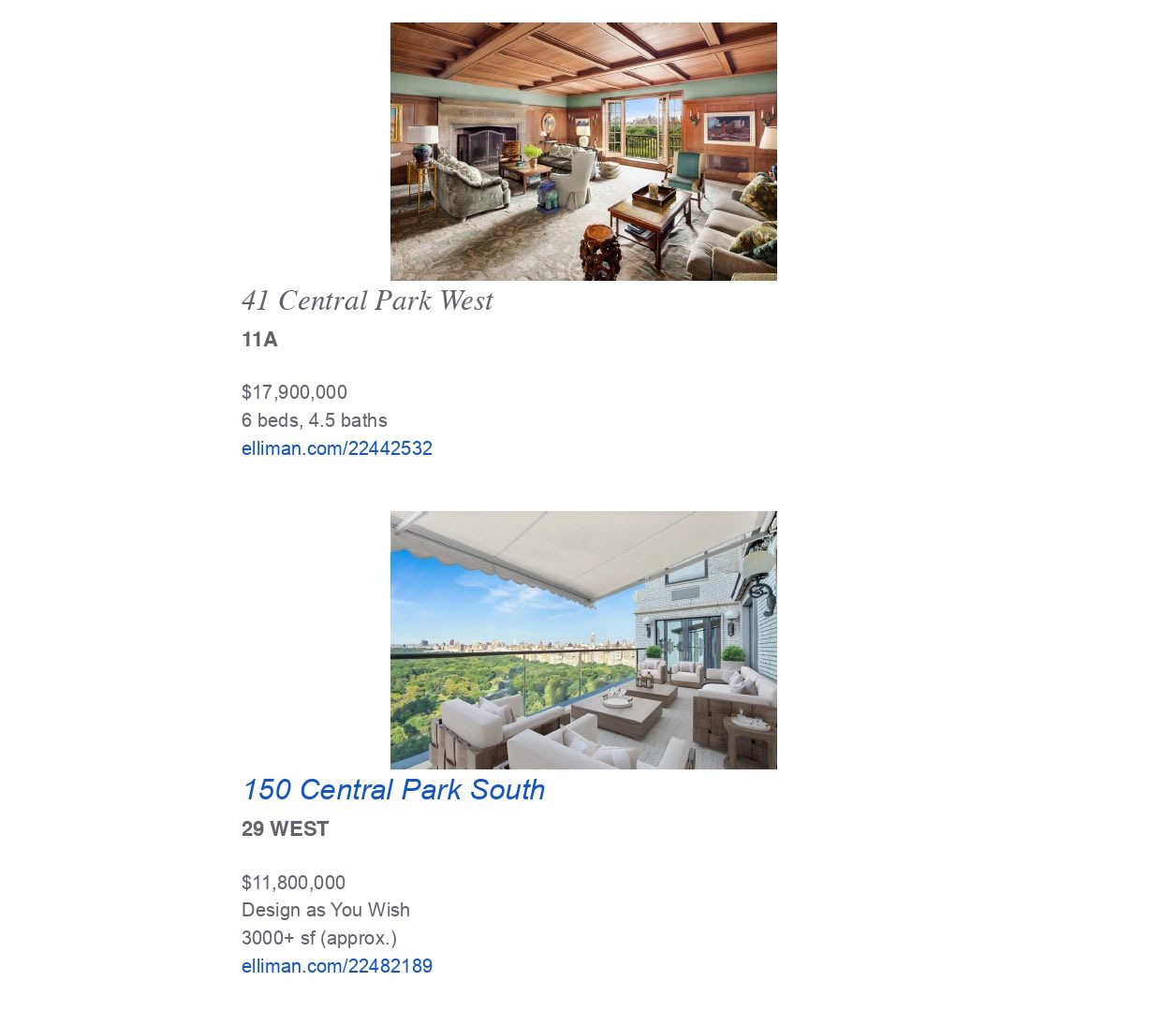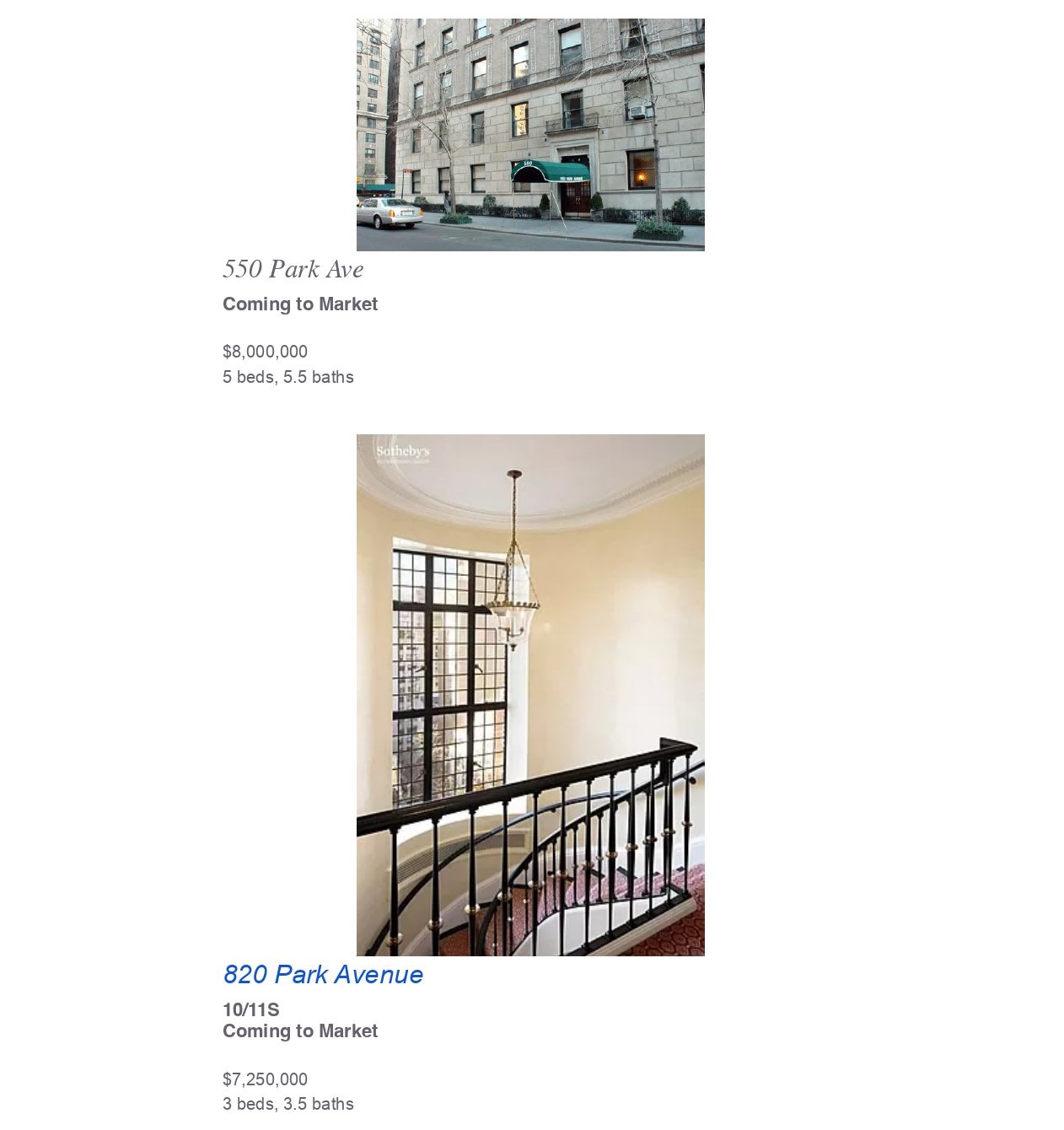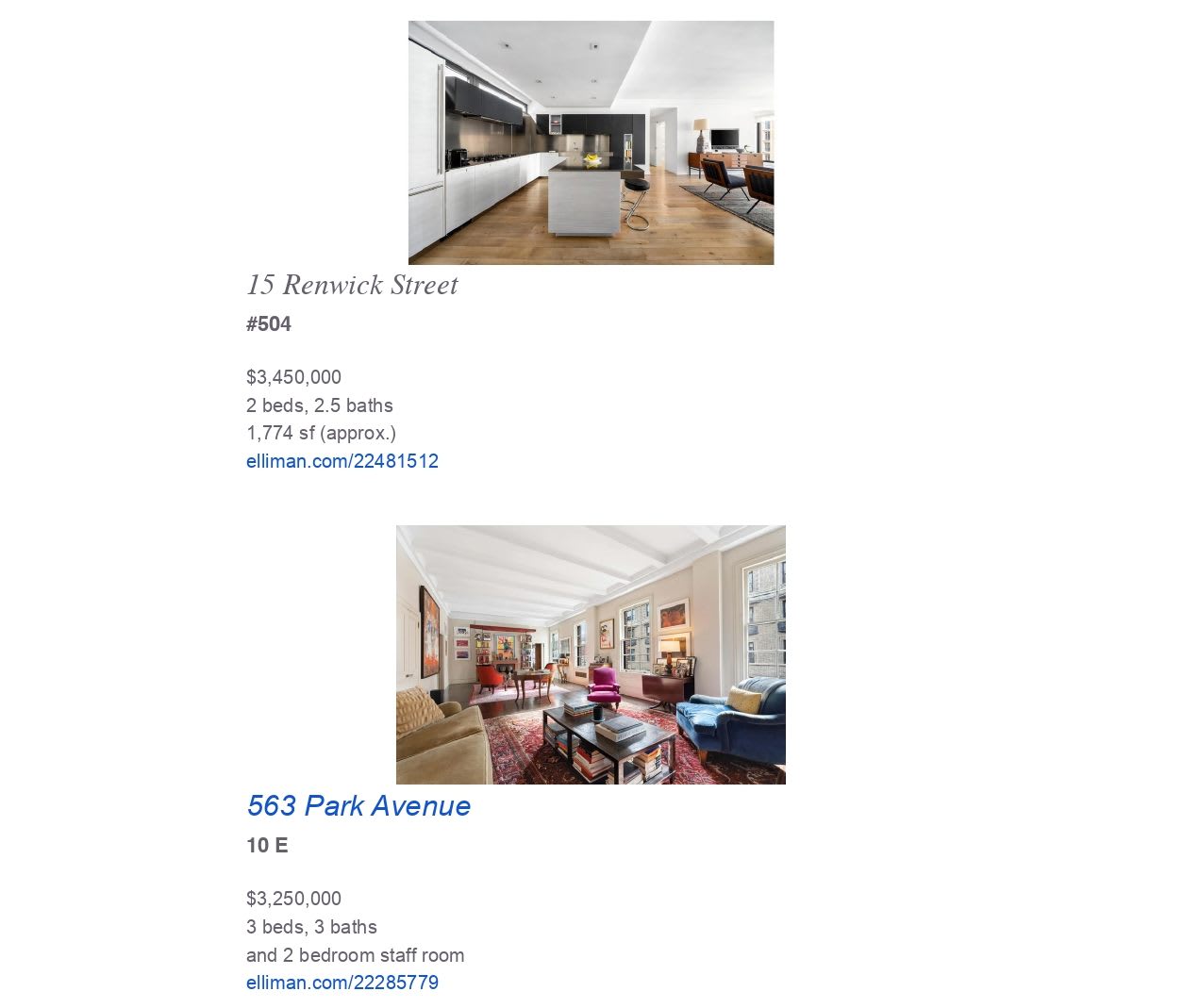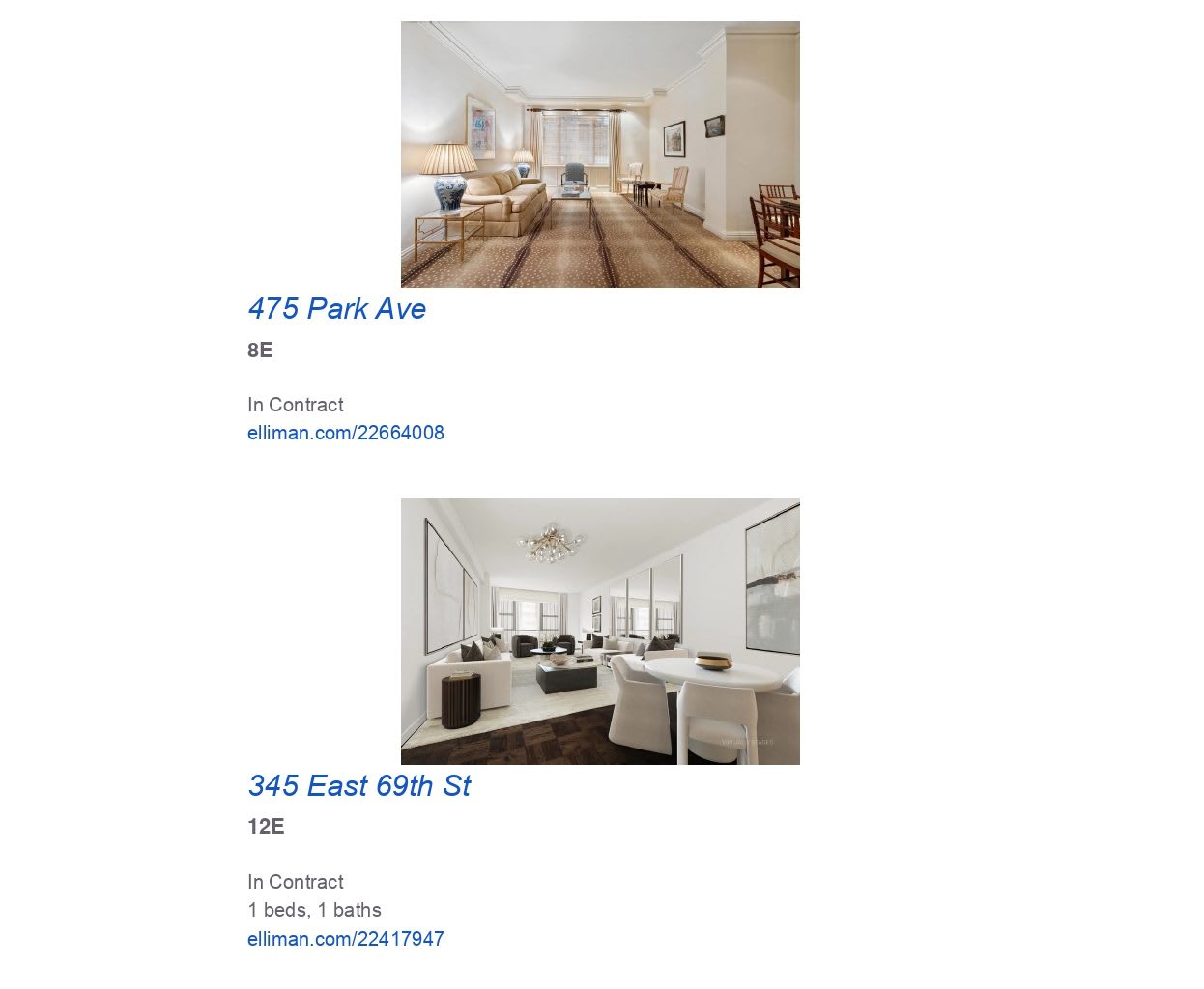 MARKET REPORT
Prices in the Manhattan co-op and condo market are beginning to stabilize as listing inventory continues to fall. Sales declined annually, likely the lastquarter of distortion caused by the spike in mortgage rates over the past year. Listing inventory declined annually for the second consecutive quarter as would-be sellers remained wedded to their existing low mortgage rates. The market share of bidding wars slipped to its second lowest level in ten quarters, and the market share of new development sales reached its highestlevel in over a year, well above the average for the decade. The market share of cash buyers slipped to the third highest on record from the prior-quarter
high. Co-op median sales price rose year over year to a new record after falling annually in each of the prior three quarters. Condo's new development listing inventory declined year over year at a higher rate than resales. New development average sales size fell annually for the fourth consecutive quarter. The luxury median sales price rose year over year for the second straight quarter as luxury listing inventory declined year over year for the second time.
Sales rose in the Hamptons from the second to the third quarter for only the second time in eighteen years. Both price trend indicators fell short of year- ago levels but remained sharply higher than pre-pandemic levels. Sales declined year over year for the ninth consecutive time as bidding wars accounted for nearly one in five sales while listing inventory rose annually for the fourth time.
Most Florida markets we cover are seeing:
Listing inventory is up modestly year over year but remains ~30% to 50% below pre-pandemic levels
Higher mortgage rates and a chronic lack of supply have kept sales lower than stabilized levels
Price trends continue to rise year over year and remain significantly higher than pre-pandemic levels (~up 40% to 80%)
Bidding wars are down from a year ago but are still a significant phenomenon in the market due to steady demand and limited supply
Days on market and listing discount has expanded slightly from the year-ago boom that distorted the metrics but remained lower than pre-pandemic levels.