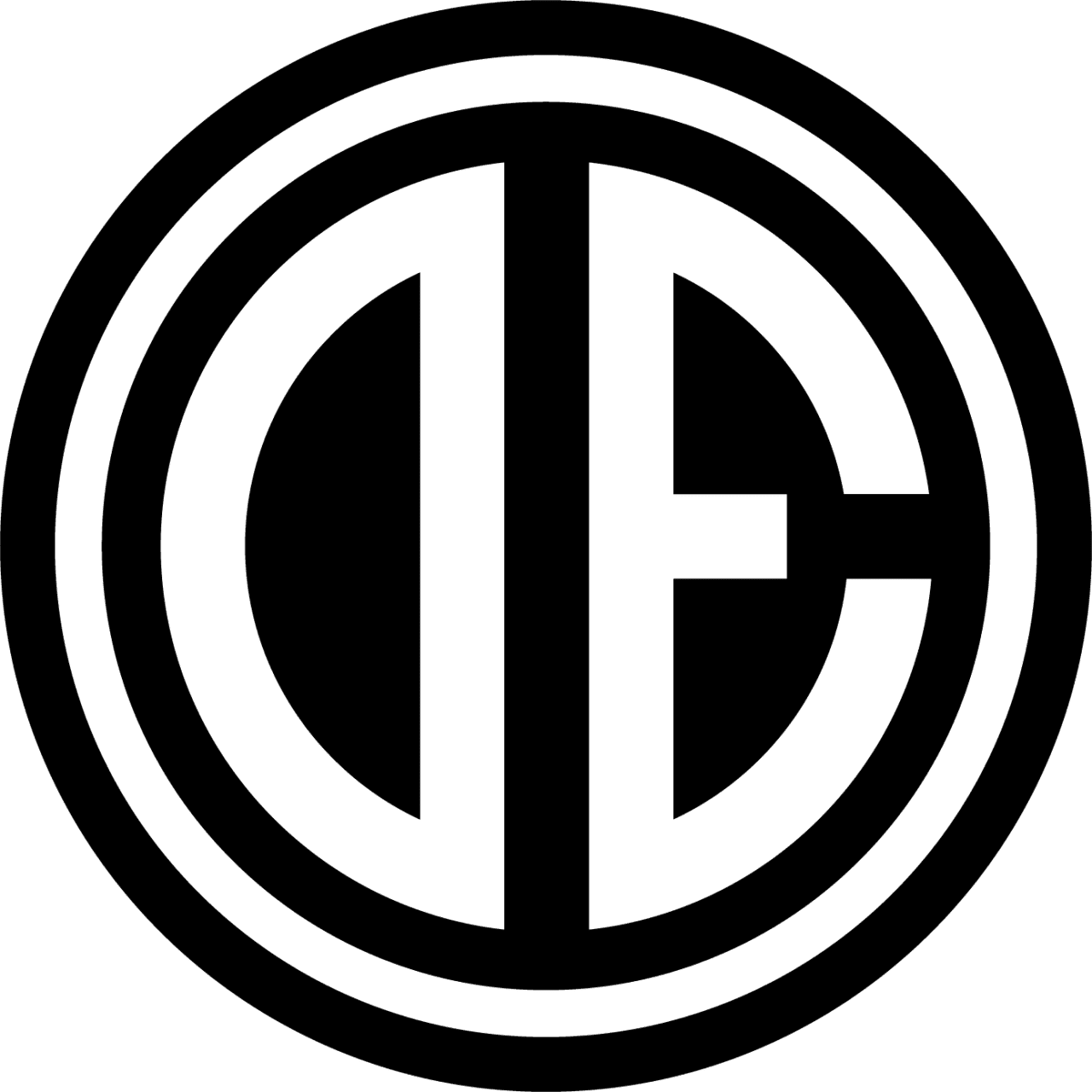 Welcome to Fall 2021

Im sending this a little later than usual and I apologize.....I have been INSANELY BUSY!

Well...........We made it! Or at least we almost made it!

​​​​​​​I am so excited for the Fall! I don't even really remember a fall season last year!

​​​​​​​In this September's CityNotes I have included some wonderful new Art Openings. There are so many exciting Art Openings in all the galleries right now. Too many to even review but I tried to touch on some of my favorites....

The restaurant world is a buzz in the city with many new opportunities to enjoy. They are a joy from there beautiful interiors to their delicious food.

​​​​​​​The Art world is also trying to bring back what we know as the traditional Art Fair. I attended the Armory Fair yesterday and the protocol was excellent and I felt very safe. You have to show your vaccination card and ID...and wear a mask all the time.

​​​​​​​Architecturally , I thought it may be fun for you to have a better understanding of whats happening on the south side of Central Park with all the new buildings emerging. Where ever you are in the city you see those extraordinarily tall structures. This will give you some insight into the facts that surrounds each of these projects. I've also added some theater openings ( reopenings ) and a new show on cable.

​​​​​​​Most importantly get outside.... Enjoy the Fall Weather.... If you have a moment go see the NEW Tory Burch Store at 151 Mercer Street...Its spectacular!

Enjoy!

Wishing you all the best for a safe and healthy Fall!

The best form of flattery is to your friends to the CityNotes distribution. Please send me your friends and family emails and I am happy to add them to the list!

Happy Fall!

Be Safe!

Be Healthy!

Be Grateful! Help a friend!

Love to you and your family!

Patty

xoxooxox
---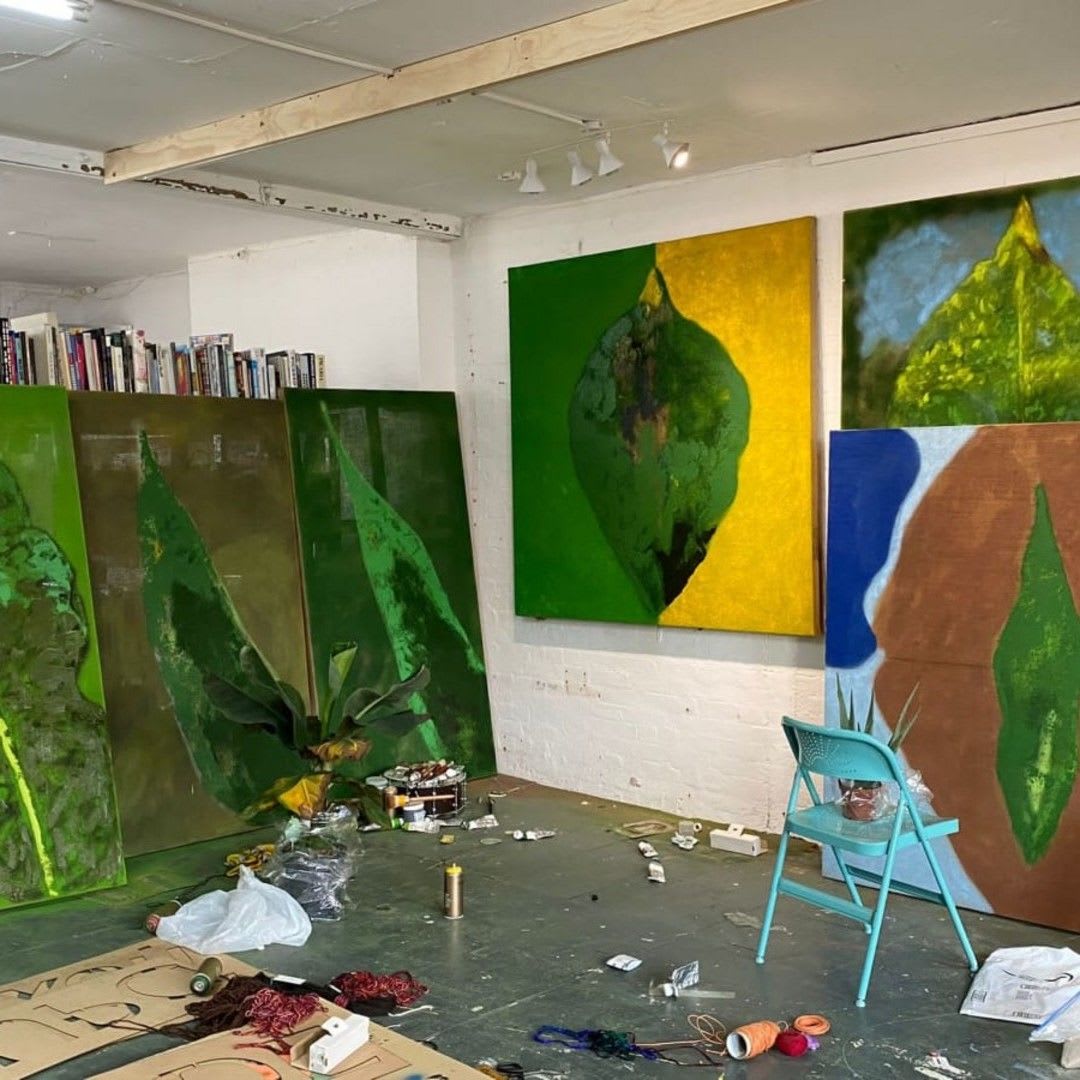 ALVARO BARRINGTON
10 SEPTEMBER - 23 OCTOBER 2021
NICOLA VASSELL GALLERY
138 TENTH AVENUE NEW YORK, NY 10011

I adore Alvaro's work and actually own a few pieces. Im so excited for him to have this upcoming show at Nicola Vassell Gallery (which i have written about in CityNotes in the past)

​​​​​​​Alvaro Barrington: GARVEY 1: BIRTH -The Quiet Storm. Born in Venezuela to Grenadian and Haitian migrant workers, Alvaro Barrington was raised between the Caribbean and Brooklyn, New York, by a network of relatives. Barrington studied at Hunter College, New York, and received an MFA from The Slade School of Fine Art, London. Barrington's work has been exhibited at MoMA PS1, New York and The Drawing Center, New York. Forthcoming exhibitions include, Mixing It Up: Painting Today at the Hayward Gallery, London and Alvaro Barrington: Spider the Pig/Pig the Spider at South London Gallery, September 2021. Barrington's work is in the collections of The Hepworth Wakefield, London; Fundaciòn NMAC, Cadiz; Rennie Museum, Vancouver and X Museum, Beijing.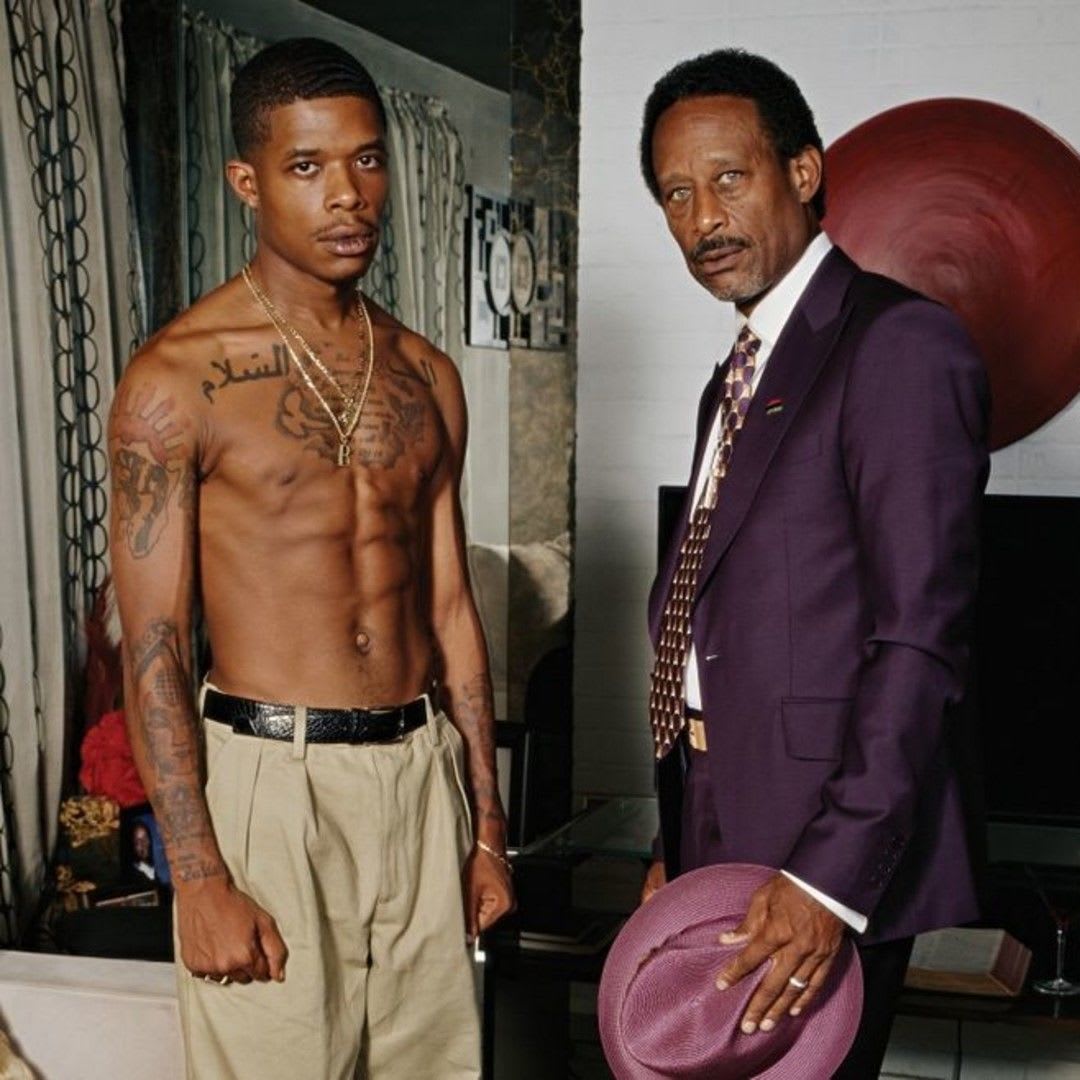 Deana Lawson, Centropy

CLOSING OCTOBER 11
1071 FIFTH AVENUE
NEW YORK, NY 10128
THURSDAY–MONDAY, 11 AM–6 PM

Deana Lawson (b. 1979, Rochester, NY) creates images that are rooted in a moment from the tangible world, but ultimately exist in the shimmering in-between space of dreams, memories, and spiritual communion, where the everyday is transfigured into the uncanny and the magnificent. Her photographs and films result from collaborations with strangers whom the artist encounters by chance or deliberately seeks out. These individuals are often depicted within richly textured domestic settings in which the details of décor, lighting, and pose are precisely choreographed. In this way, Lawson draws on the legacies of historical portraiture, documentary photography, and the family album, but transcends these traditions, constructing scenes that merge lived experience with imagined narratives.

Mickalene Thomas
SEPTEMBER 9, 2021
LEVY GORVY
909 MADISON AVENUE, NEW YORK

Dominique Lévy and Brett Gorvy, co-founders of Lévy Gorvy, announced that their gallery will host an international exhibition unfolding across its spaces in four world capitals—New York, London, Paris, and Hong Kong—over the course of fall 2021, unveiling interconnected bodies of new work by acclaimed American artist Mickalene Thomas (b. 1971, Camden, NJ). This multi-site presentation, Beyond the Pleasure Principle, will feature paintings, installations, and video works that expand Thomas' decades-long exploration of the Black female body as a realm of power, eroticism, agency, and inspiration, and a vehicle for reformulating familiar visual idioms of modernism inherited from some of the 20th century's most influential masters. Presented in uniquely designed environments for each of the four locations, Thomas' exhibition will also include a video made in collaboration with her life partner and muse Racquel Chevremont, an art advisor, curator, and collector. Beyond the Pleasure Principle will open in a series of related, overlapping chapters: Beginning September 9, Lévy Gorvy's landmark building in New York City will host the first of this progression, debuting Thomas's latest large-scale Jet paintings—works that reclaim images from vintage Jet Magazine pin-up calendars—presented in a totalizing environment.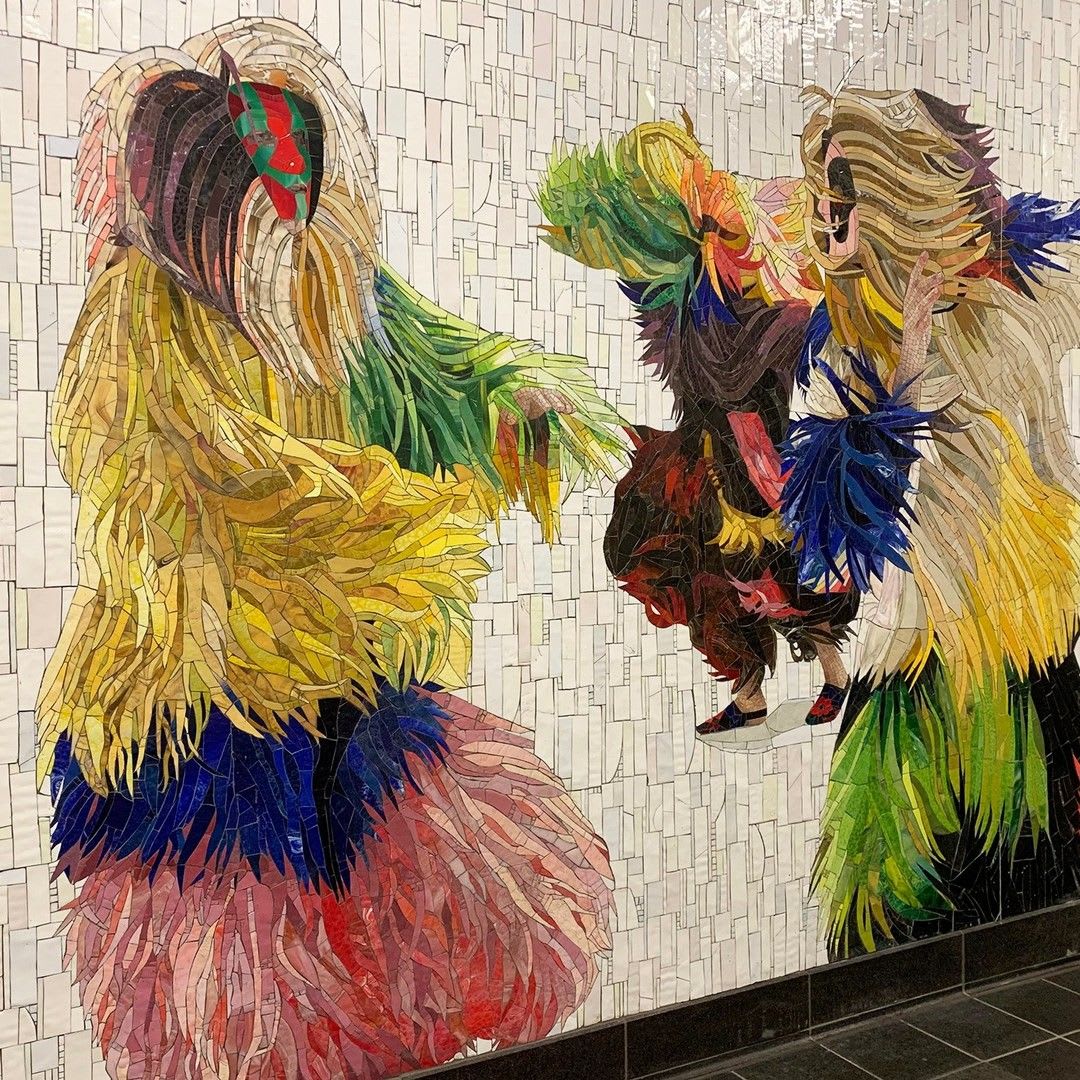 Nick Cave NYC Subway Mosaic
THE NEW PASSAGEWAY CONNECTOR LINKING 42ND STREET BETWEEN
TIMES SQUARE & BRYANT PARK

"Every One," is the first of a three-piece installation by Nick Cave, inside the new 42nd Street connector. The other two parts — "Each One" at the new shuttle entrance and "Equal All" on the center island platform wall — will be installed next year. Cave — a sculptor, dancer and performance artist — is known for his sound suits wearable fabric sculptures made of materials such as twigs, wire, raffia and even human hair that often generate sound when the wearer moves. Walking along the new and improved corridor, figures on the wall are depicted leaping and twirling in mosaic Soundsuits. "It's almost like looking at a film strip," Cave said in an interview from his studio in Chicago. "As you're moving down that from left to right, you see it in motion." This is a MUST SEE!!!!!!!

---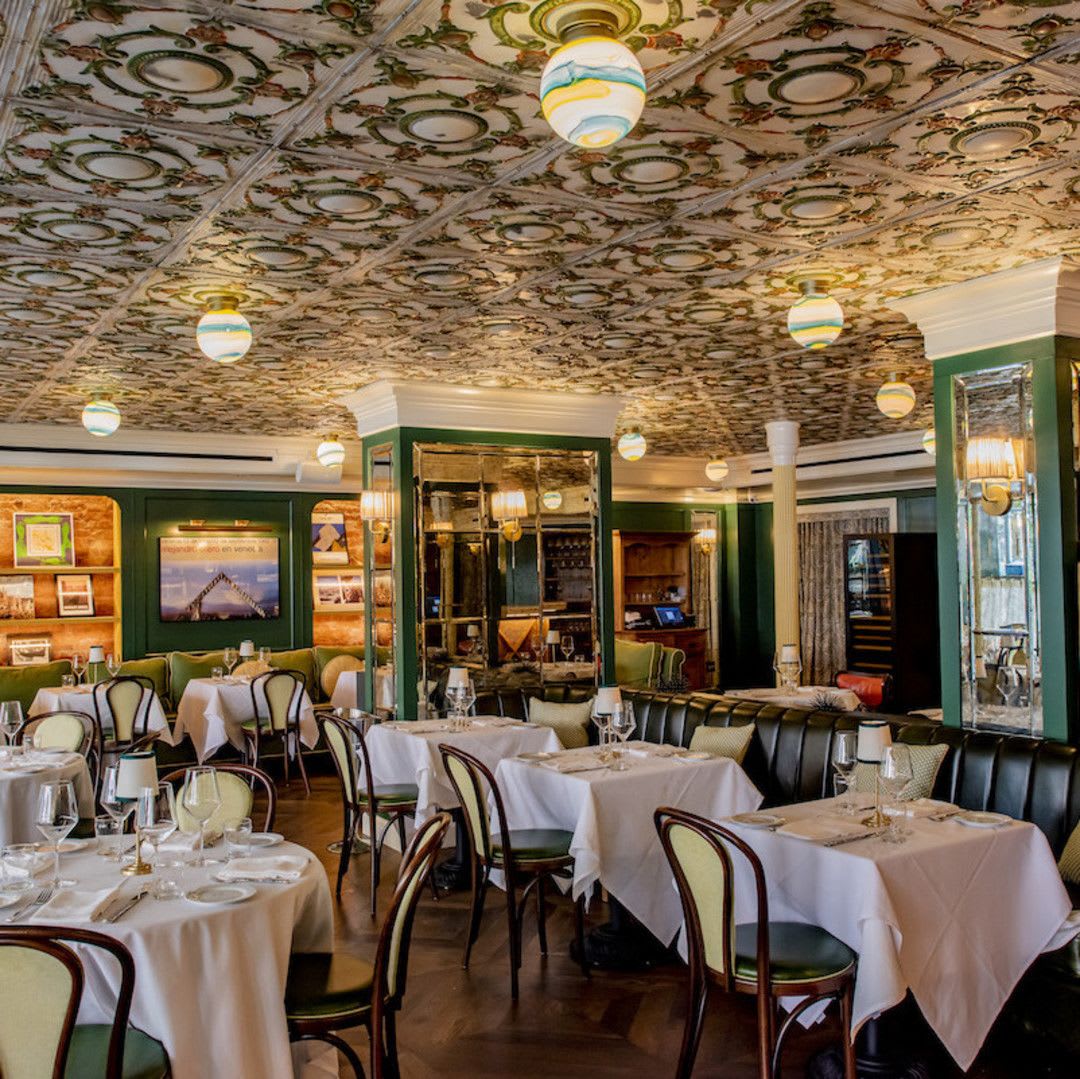 Saint Theos
340 BLEECKER STREET
NEW YORK, NY 10014

This is the NEW Go To spot! The team behind American Bar and Cafe Clover just opened a new upscale Italian restaurant in the West Village. The attractive dining room has green banquettes, vintage dining chairs, and a menu full of mostly pasta and seafood dishes you'd likely eat on a trip to Venice. So if you're looking for a new place to eat some hamachi crudo, pesto linguine, or a minty branzino, check out this massive new spot on Bleeker.

Carne Mare
PIER 17 - 89 SOUTH ST,
NEW YORK, NY 10038
212-280-4600

Carne Mare is an Italian chophouse by Chef Andrew Carmellini offering prime cuts of steaks, fine seafood, and Italian specialtieshe menu by Chef Carmellini. Located on the Seaport's Pier 17, the two-story space by Martin Brudnizki Design Studio offers striking views of the Manhattan waterfront and the Brooklyn Bridge. The ground floor features ample seating indoors and out, a wrap-around bar, and a wood-fired oven.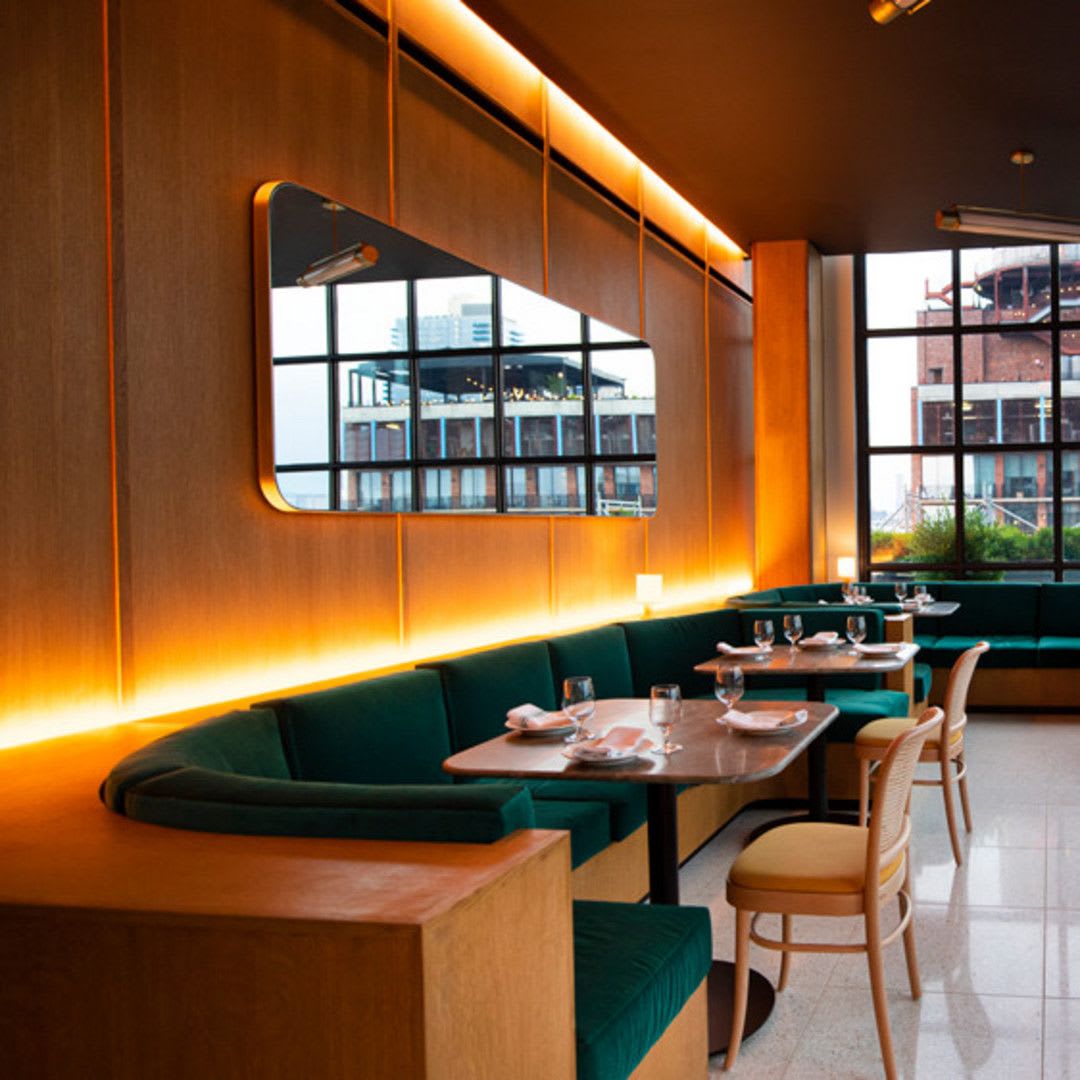 Bar Blondeau
WYTHE HOTEL
80 WYTHE AVE
BROOKLYN, NY 11249

​​​​​​​The team behind Le Crocidile recently opened this French wine bar six floors above their Williamsburg restaurant on the bottom floor of the Wythe Hotel. Bar Blondeau is where you can snack on mussel toast, order several rounds of oysters, and take in some great views of the Manhattan skyline with friends. You can also choose a bottle from their natural wine list full of up-and-coming wine regions around the world to enjoy on their large outdoor terrace.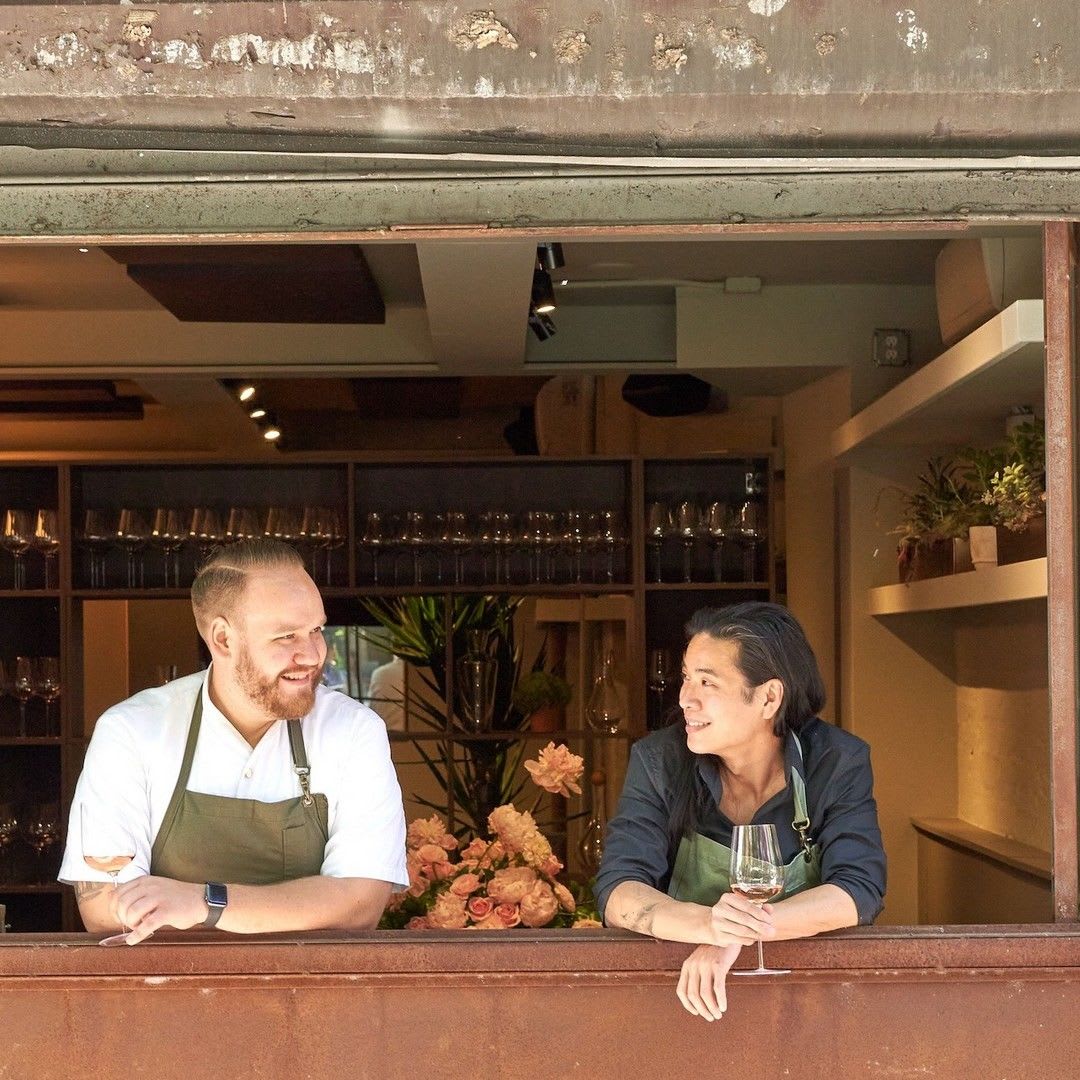 Sixty Three Clinton

63 CLINTON STREET (STANTON STREET)
917-663-6223
63CLINTON.COM.

A cute spot with a prix fix tasting menu. their unique offer is the breakfast taco.....

---
DESIGN
THE RETURN OF THE ART FAIRS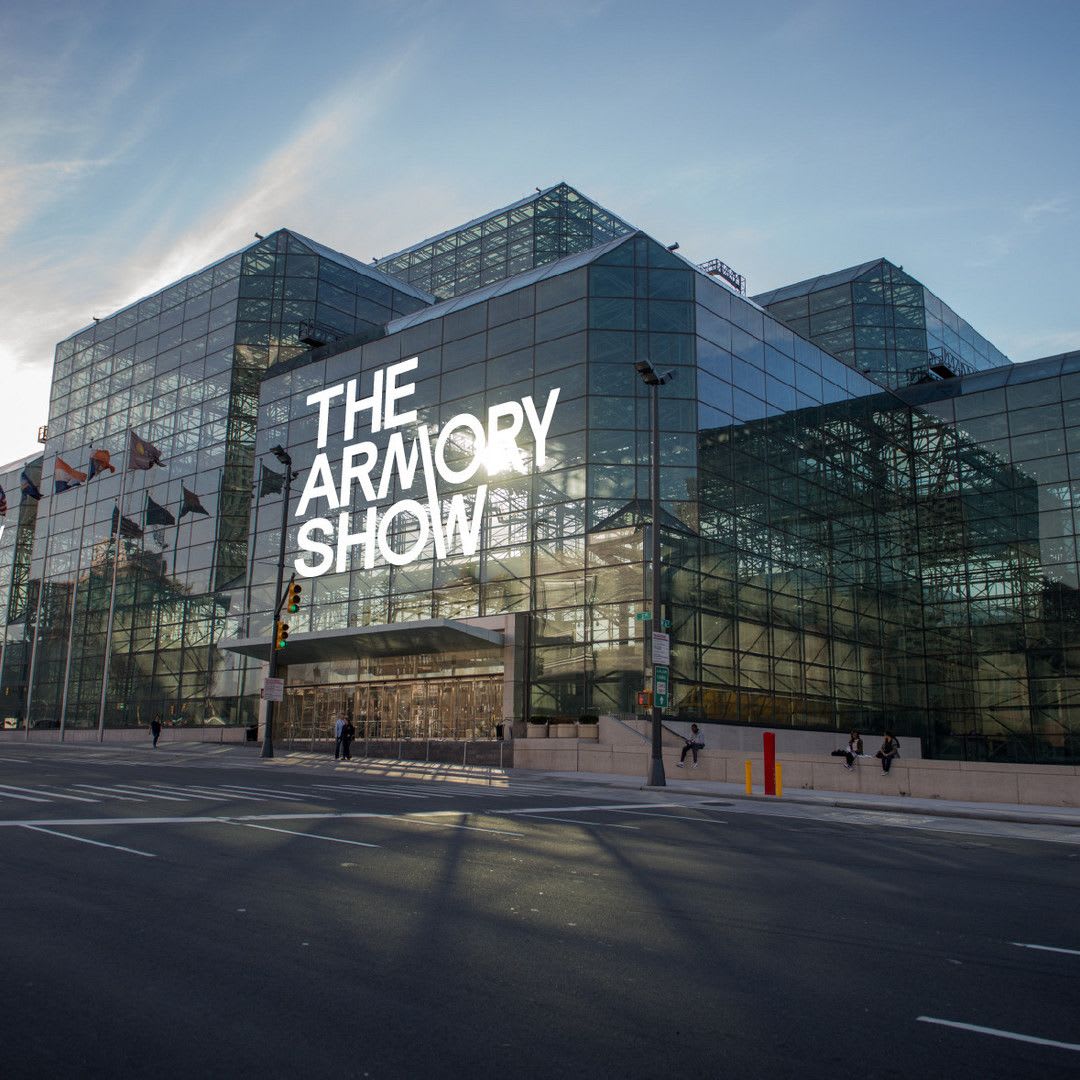 The Armory Show
SEPTEMBER 9-12, 2021
JAVITS CENTERVIP
429 11TH AVE, NEW YORK, NY 10001
PUBLIC DAYS:
FRIDAY, SEPTEMBER 10, 12–8PM
SATURDAY, SEPTEMBER 11, 12–8PM
SUNDAY, SEPTEMBER 12, 12–7PM

The Armory Show is New York City's premier art fair. This year it is at the Jacob Javitz center. It feels safe and controlled but not all the galleries are in attendenace. It features presentations by leading international galleries, innovative artist commissions, and dynamic public programs. Since its founding in 1994, The Armory Show has served as a nexus for the art world, inspiring dialogue, discovery, and patronage in the visual arts. It was founded by four New York gallerists - Colin de Land, Pat Hearn, Matthew Marks and Paul Morris - who sought a platform to present and promote new voices in the visual arts.

Art on Paper
PIER 36, DOWNTOWN MANHATTAN
299 SOUTH STREET
SEPTEMBER 9TH-12TH

Art on Paper returns to New York in September 2021 with 100 galleries featuring top modern and contemporary paper-based art. Art on Paper's medium-driven focus lends itself to significant projects - unique moments that have set the fair apart and established an important destination for the arts in New York City.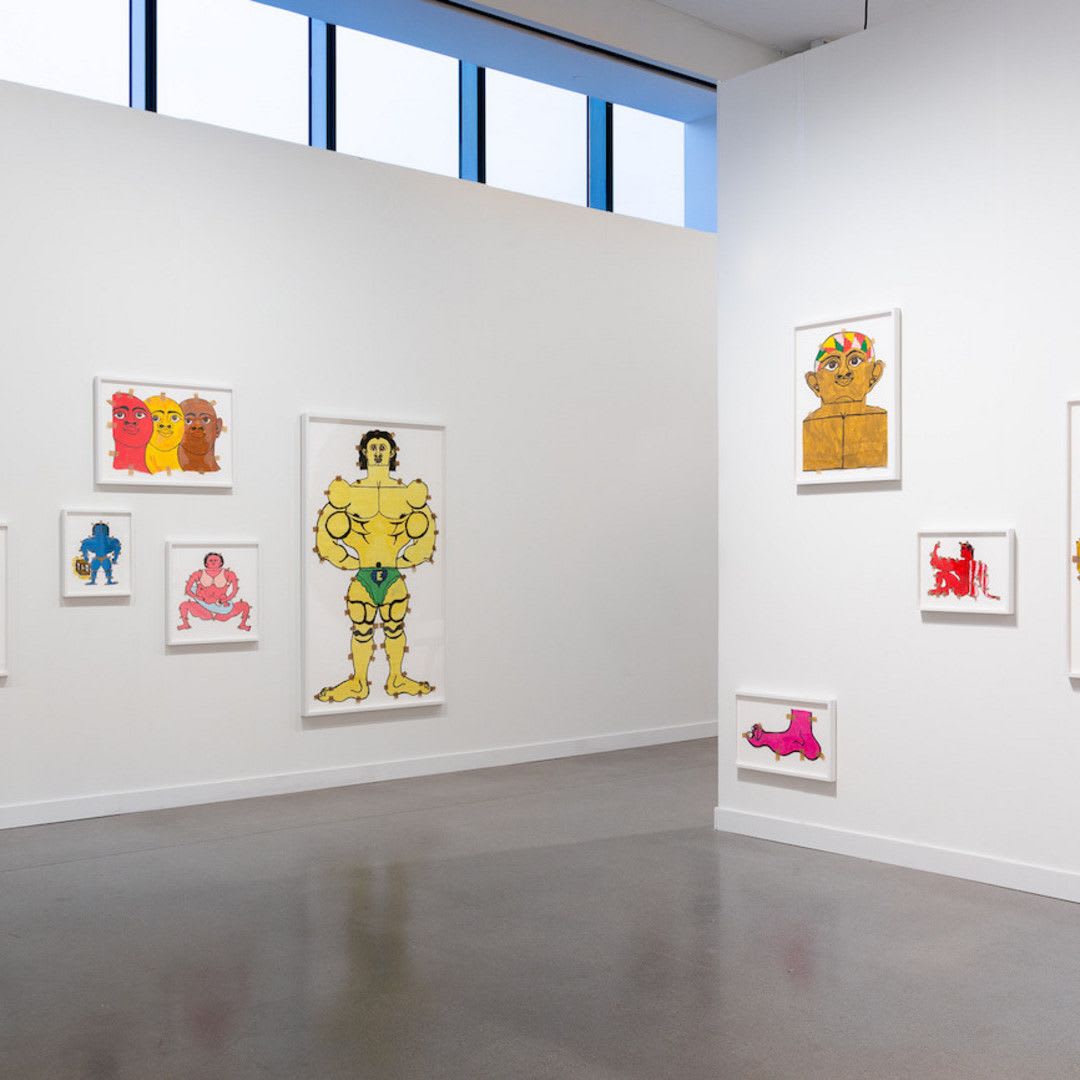 Independant Art Fair
CIPRIANI SOUTH STREET
AT THE BATTERY MARITIME BUILDING
10 SOUTH STREET, NEW YORK, NY 10004
PUBLIC FAIR DAYS
FRIDAY SEPTEMBER 10, 12 - 7PM
SATURDAY SEPTEMBER 11, 12 - 7PM

Independent offers a very good mix of established galleries along with emerging young galleries. For the 11th edition, you'll see a large number of solo and duo presentations. Sixty galleries and institutions are participating. This year a new collaboration with OBJECT & THING debuting at Independent. It's a collaborative presentation that builds upon Independent's history of presenting a wide range of artistic practices. Independent was conceived and initiated in 2009 with a consortium of like-minded commercial and non-profit galleries. The first edition took place in the former Dia Center for the Arts on West 22nd Street.

---
ARCHITECTURE
CENTRAL PARK SOUTH "BILLIONAIRE ROW" UPDATE!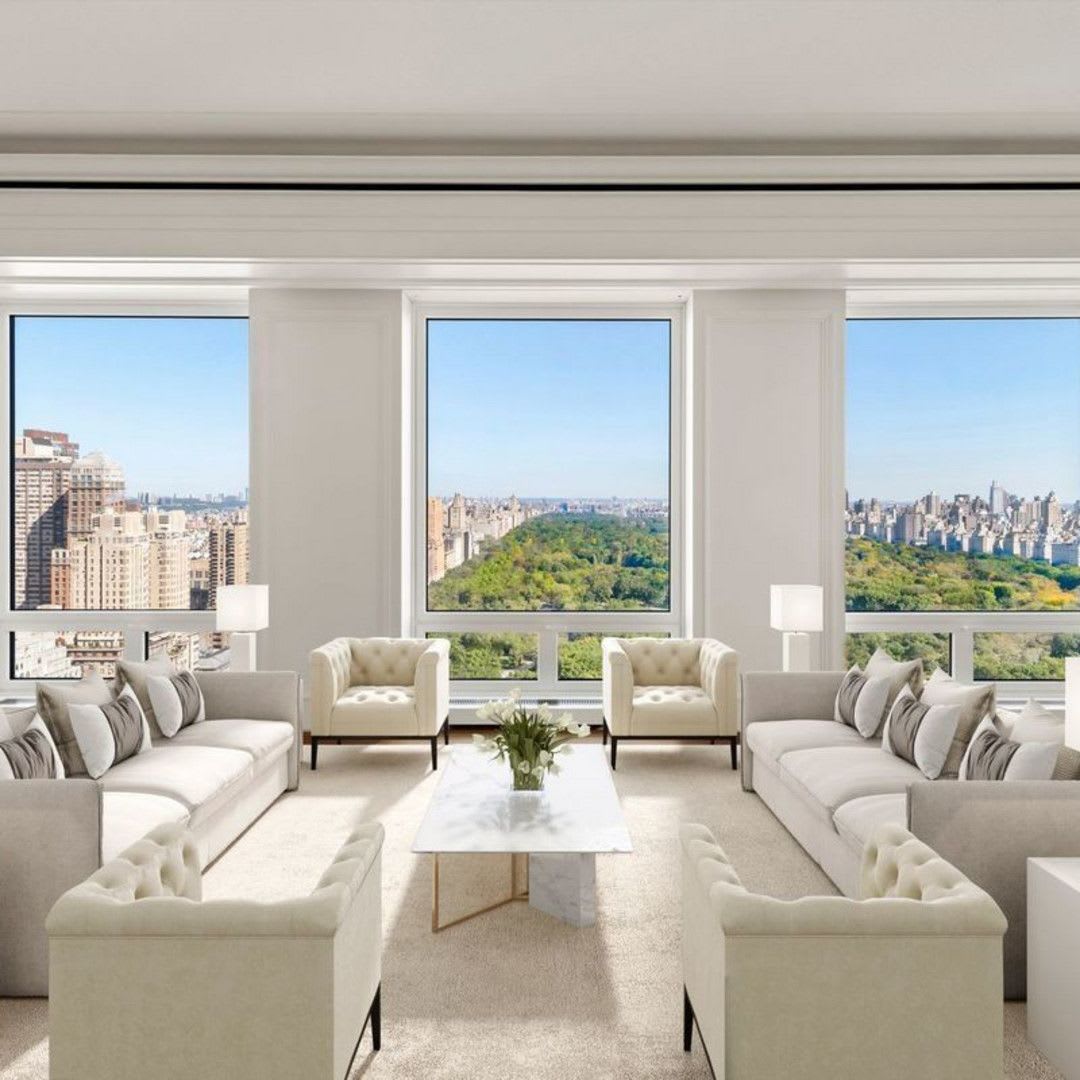 220 Central Park South
220 CENTRAL PARK SOUTH

​​​​​​​220 Central Park South is a residential building. 220 Central Park South was designed by Robert Stearn Architects with interiors designed by Thierry Despont. The interiors adn architecture are EXQUISITE! It is composed of two sections: a 70-story tower on 58th Street, as well as an 18-story section on Central Park South. The building has a wine cellar, private dining rooms, and an 82-foot-long saltwater swimming pool, an athletic club, a juice bar, a library, a basketball court, a golf simulator and a children's play area.In 2019, Jean George was selected to operate a residents-only, 54-seat restaurant at the second floor.220 Central Park South contains some of the most expensive apartments in New York City. Two of the building's units have sold for over $100 million, including a $238 million unit purchased by hedge fund manager Ken Griffin in 2019.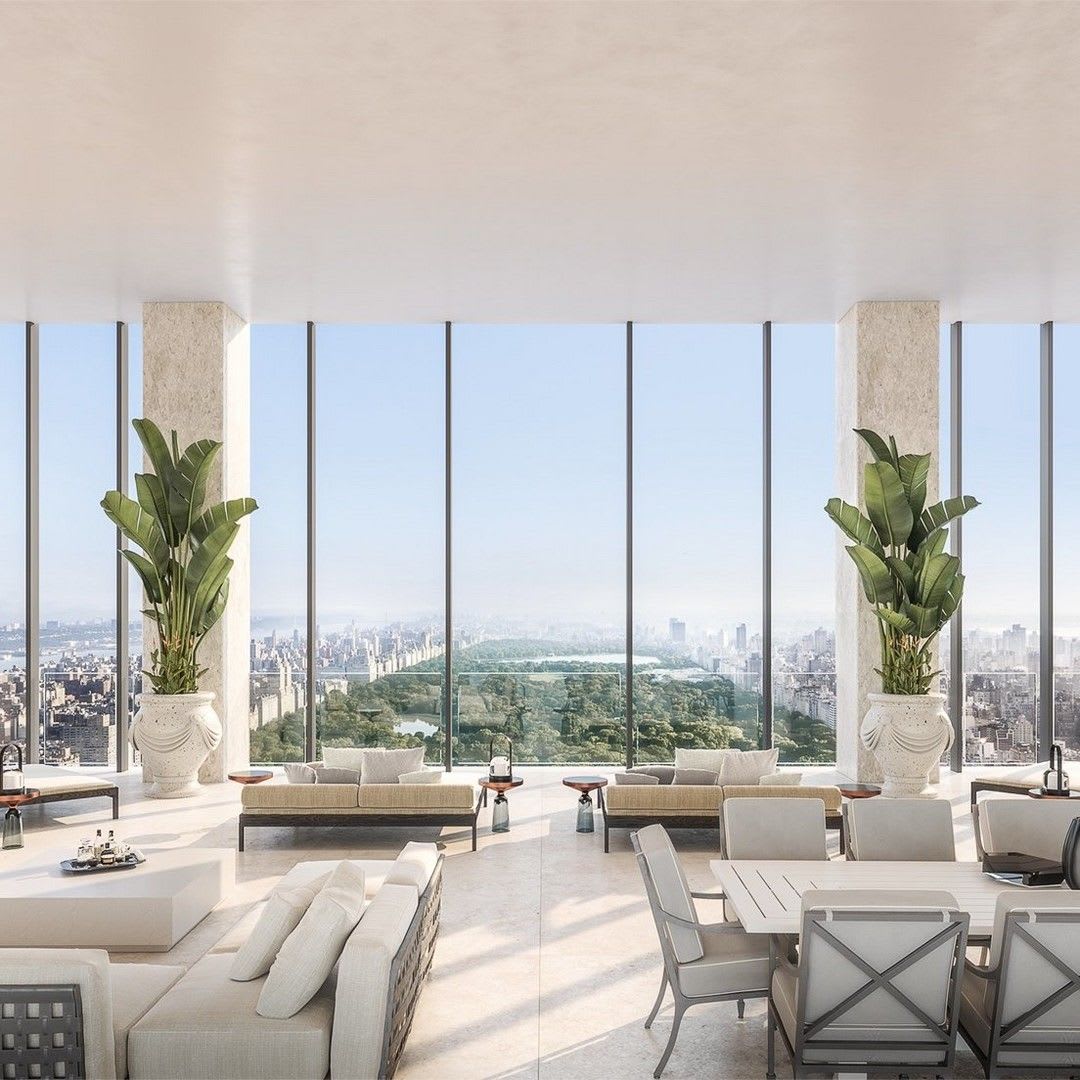 Central Park Tower -Nordstrom Tower

215 WEST 57TH STREET

​​​​​​​Central Park Tower, also known as the Nordstrom Tower, is a residential skyscraper at 225 West 57th Street. Designed by Adrian Smith & Gordan Gill the building rises 1,550 feet with 98 above-ground stories and Central Park Tower is the 2nd tallest building in the united states.
There are 50,000 square feet of amenities on the 8th through 12th stories. On the 14th floor, the building features the "Central Park Club" with a lounge, theater, conference room, play area, and tween lounge. Floor 14 also has an outdoor terrace spanning 13,100 square feet .The terrace contains a 60-by-16-foot outdoor pool.On floor 16, there is an indoor pool, exercise rooms, spa, gym, basketball court, and children's playroom, as well as men's and women's lockers.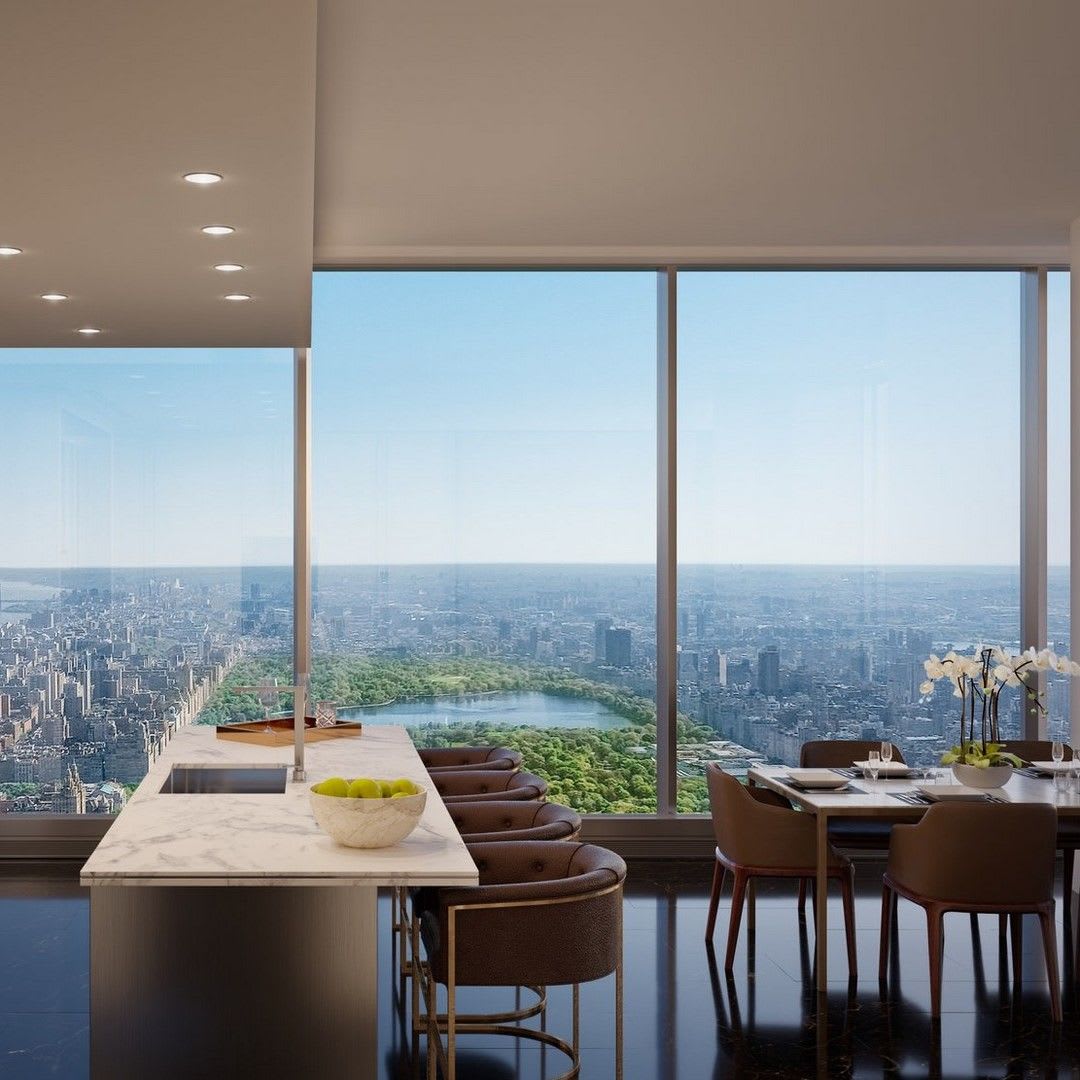 111 West 57th Street - Steinway Tower

11 WEST 57TH STREET

111 West 57th Street, also known as Steinway Tower, is a residential skyscraper. The main portion of the skyscraper is an 84-story tower designed by SHoP ARCHITECTS and erected in the 2010s. 111 West 57th Street has 60 luxury condominiums: 14 in Steinway Hall and 46 in the tower. 111 West 57th Street contains numerous resident amenities, housed mostly in the building's base.
111 West 57th Street's interior spaces were designed by Studio Sofield and are quite beautiful.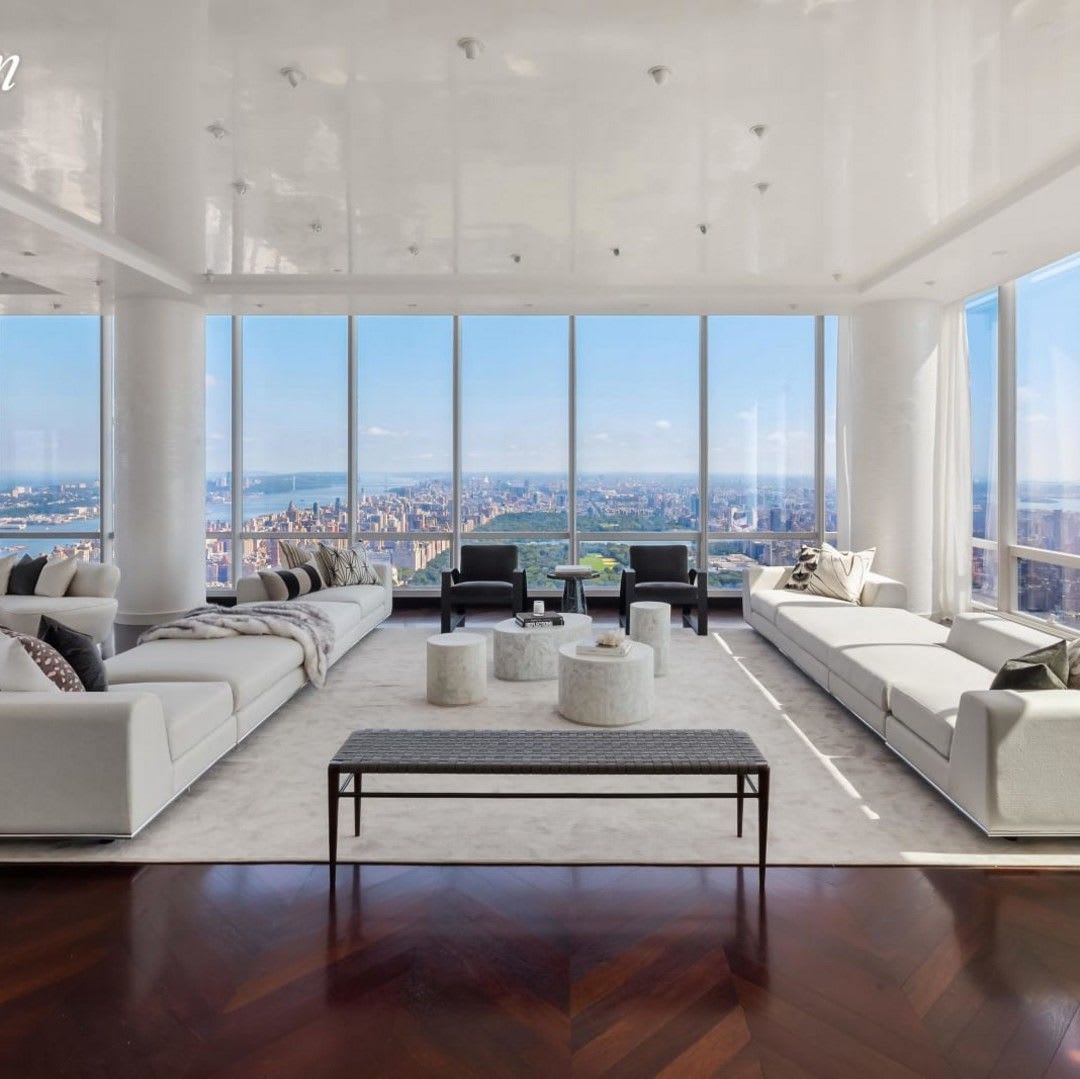 157 West 57th Street

157 WEST 57TH STREET

One57 was designed by architect Christian de Portzamparc, while the interior design was by New York-based designer Thomas Juul-Hansen. This was the first of all the buildings that were built. The building has 90 stories.The lowest section of One57 contains the Park Hyatt New York, a 210-room hotel that serves as the NYC Flagship. Above the hotel are 92 condominium units. An amenities floor, for the residents is on the 21st story, directly above the hotel amenities. The building also has resident parking, a library, a kitchen, an arts-and-crafts space, a fitness room, a yoga room, and a pet washroom. There are also rooms for screening and performance, a triple-height swimming pool and a Jacuzzi.

---
LIFESTYLE
GREAT SPOTS TO STOP IN FOR A DRINK OR A SLICE!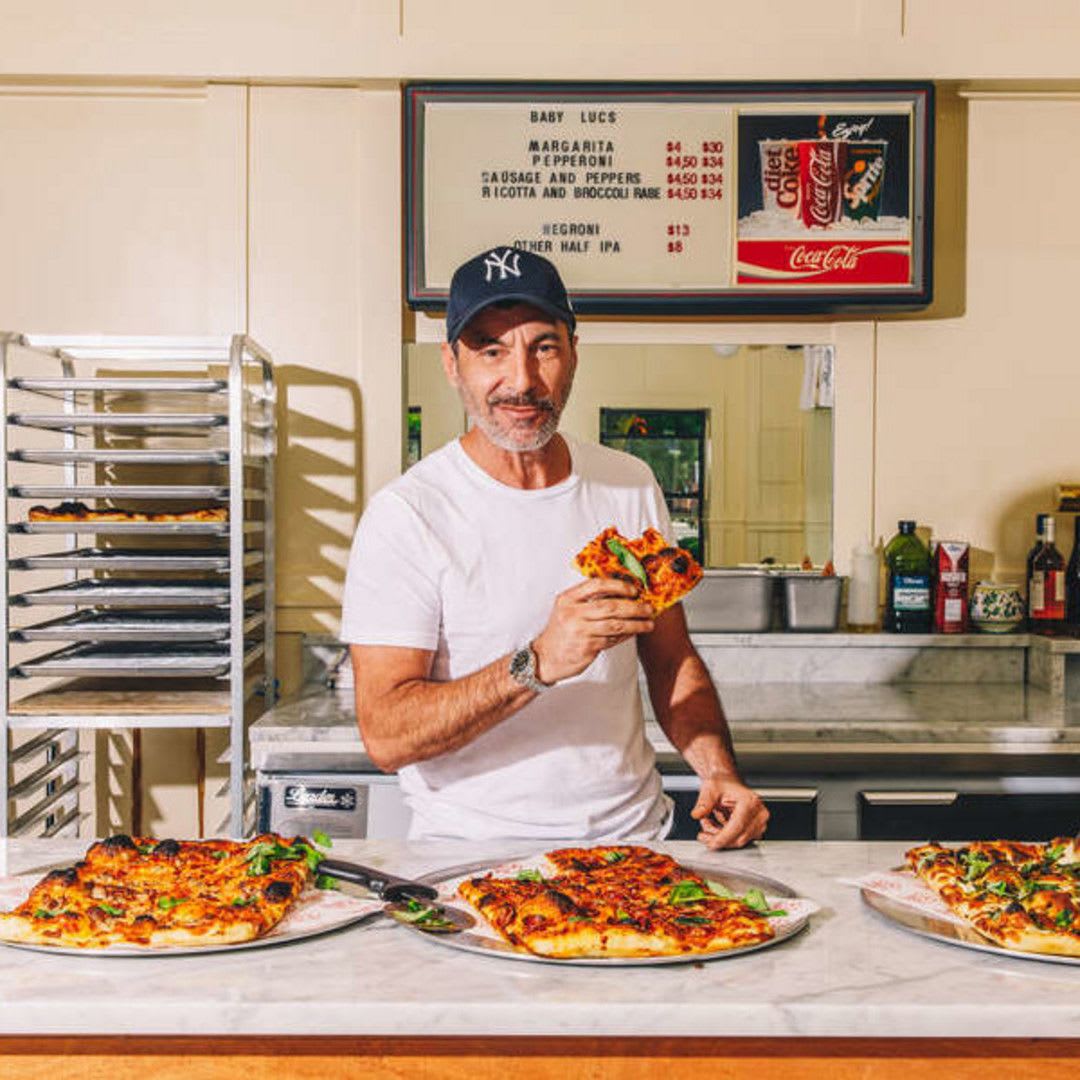 Baby Lucs

387 COURT ST, BROOKLYN, NY 11231
MONDAY - FRIDAY: 4PM - 10PM
SATURDAY & SUNDAY: 11AM - 10PM

Lucali owner Mark Iacano is credited with opening one of the best pizzerias in Brooklyn. The no-reservation restaurant starts accepting names for dinner at 5 p.m., but by 4:45 p.m. most days there's already a block-long queue down Henry Street. Fifteen years after opening his Carroll Gardens pizzeria, Iacano has followed up with Baby Luc's, a casual slice shop in the same neighborhood, where he's still drawing block-long lines but with fewer rules. Over the last two weeks, the restaurant has been opening its doors at 5 p.m., and most days is only able to stay open for two hours before selling out. YUMMY!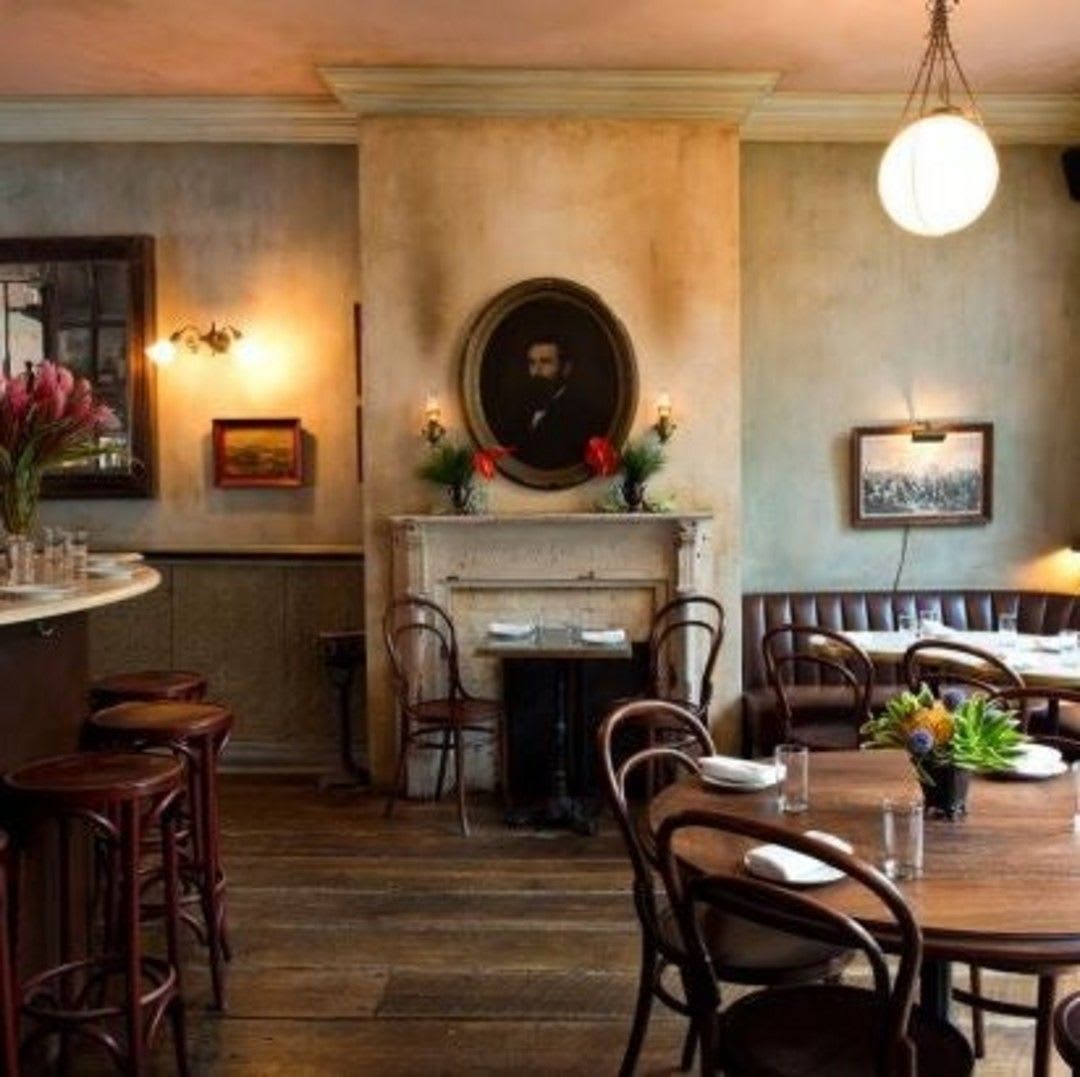 ---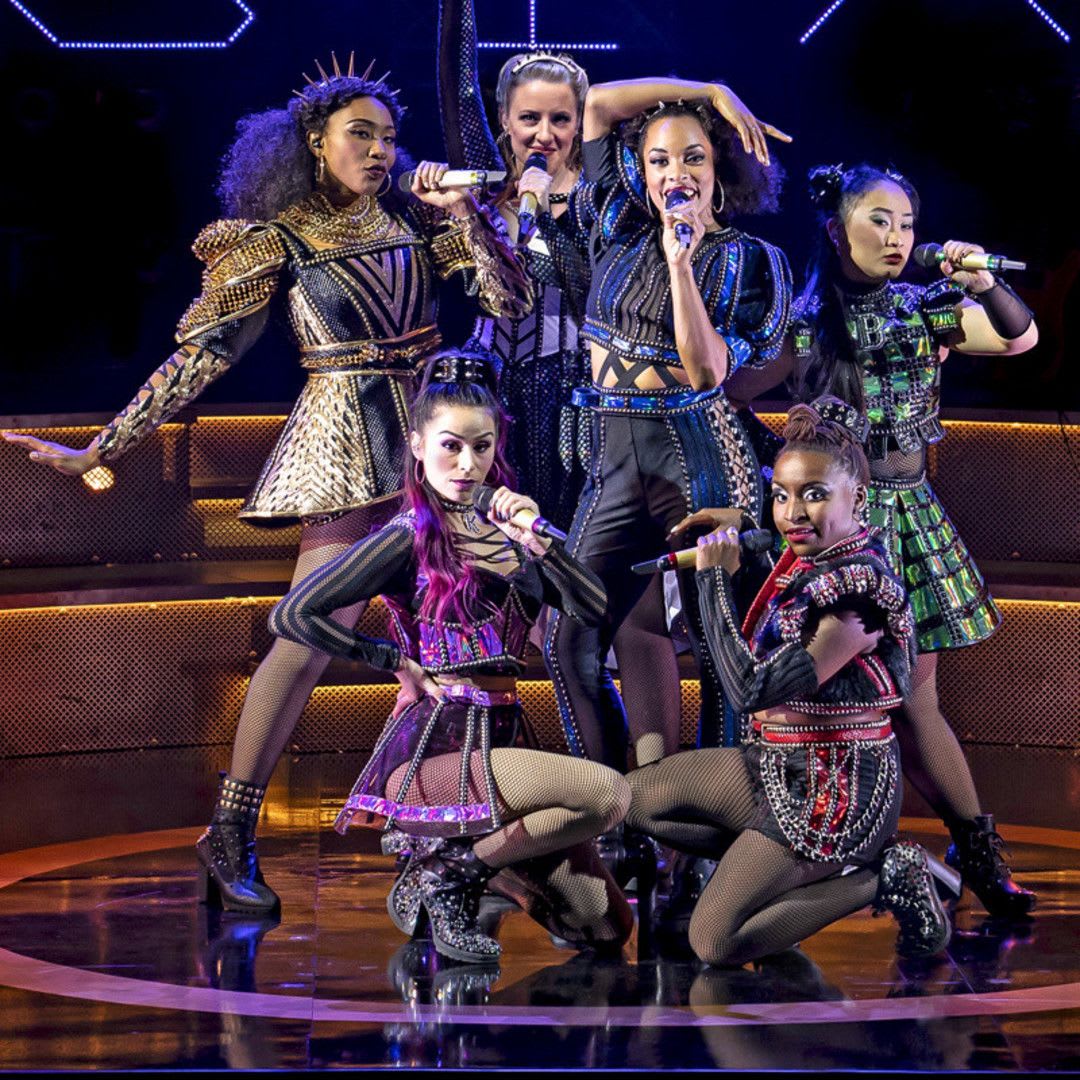 Six The Musical

BROOKS ATKINSON THEATRE 256 W 47TH ST

The go to show in London has now come to New York. From Tudor Queens to Pop Princesses, the SIX wives of Henry VIII remix five hundred years of historical heartbreak into a celebration...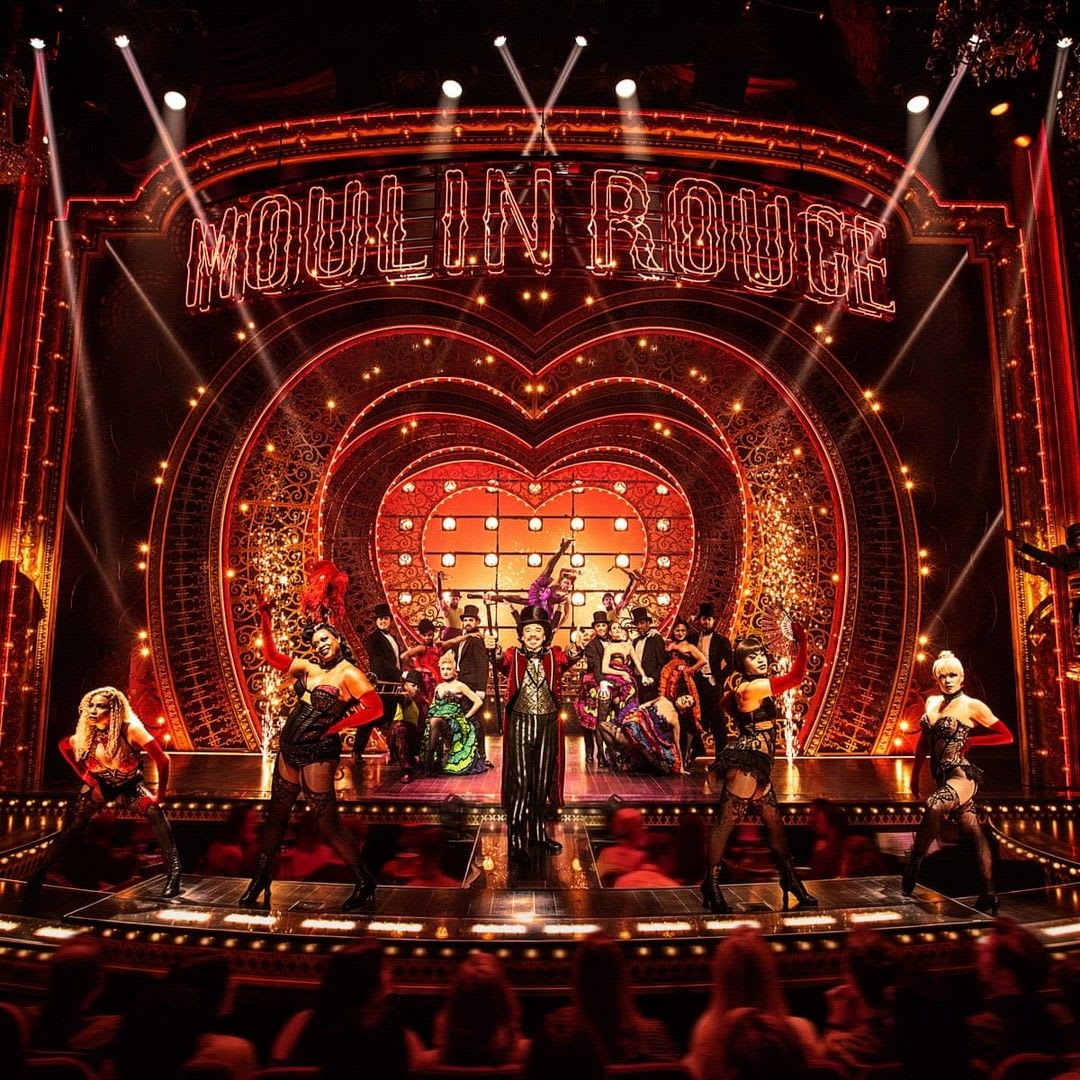 Moulin Rouge

AL HIRSHFELD THEATER 302 W 45TH ST, NEW YORK, NY 10036

Baz Luhrmann's revolutionary film comes to life onstage, remixed in a new musical mash-up extravaganza. A theatrical celebration of truth, beauty, freedom and—above all—LOVE.
Enter a world of splendor and romance, of eye-popping excess, of glitz, grandeur and glory! A world where Bohemians and aristocrats rub elbows and revel in electrifying enchantment.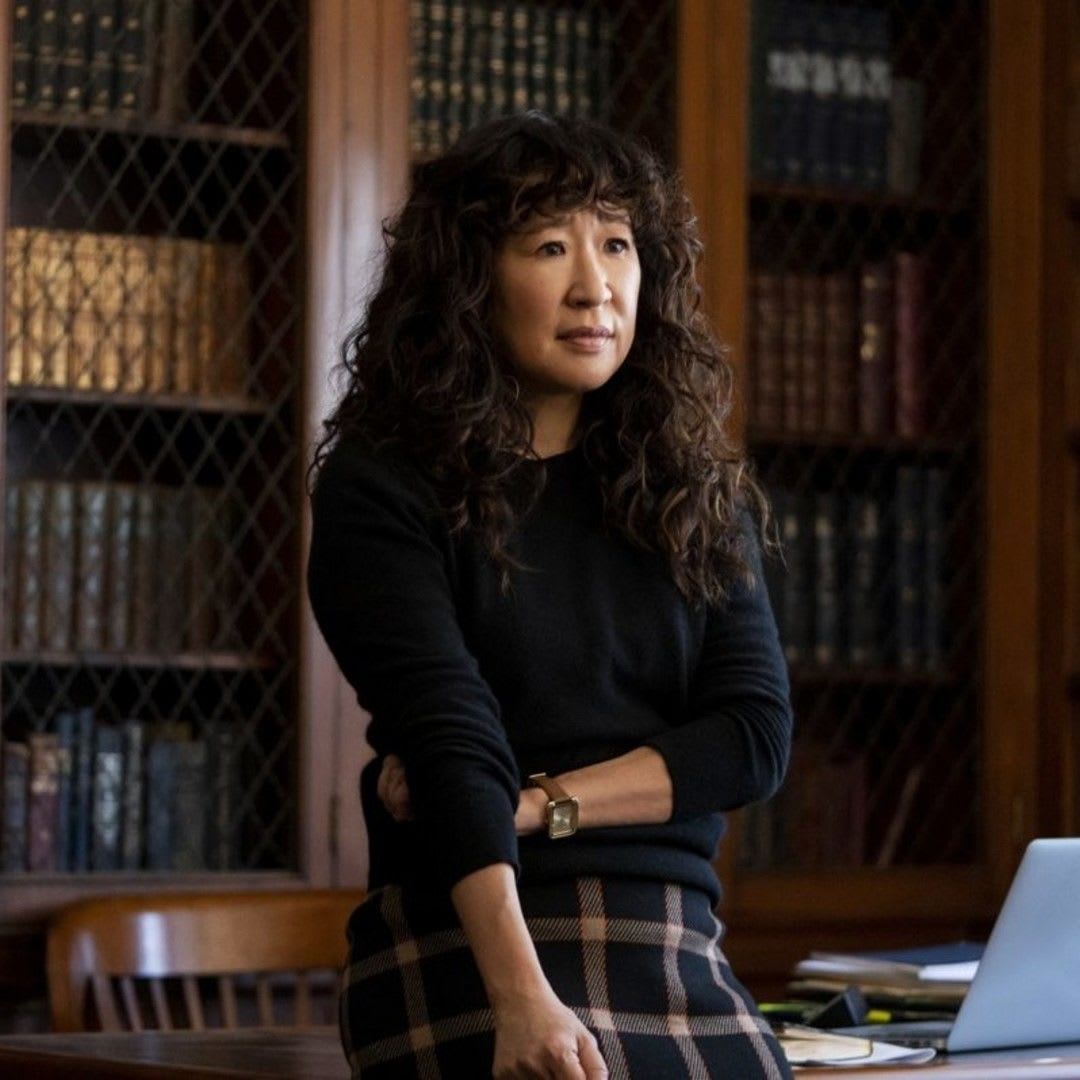 The Chair
NETFLIX
THE CHAIR follows Sandra Oh's character, Dr. Ji-Yoon Kim as she navigates her new role as the Chair of the English department at the prestigious academic institution known as Pembroke University. We follow Dr. Kim's unique set of challenges as the first woman to chair the department and as one of the few staff members of color at the university. The six half-hour episode season is executive produced and written by Amanda Peete.
Market Report
Prices in the Hamptons set records as sales levels remained high, but not at the intensity seen late last year. Price trend indicators rose to new highs as sales surged year over year. Listing inventory fell sharply to the third-lowest level in nearly fifteen years. The market pace fell annually to the fastest moving market in fifteen years. Bidding wars rose annually to their second-highest market share in five years of tracking. While sales rose market-wide, sales from $1 million to $5 million saw the highest market share in a decade. Luxury listing inventory fell sharply as the market share of sales to close at the asking price reached a new high.